Replacing the Disability Discrimination Act seven years ago, the Equality Act 2010 seeks to protect those in the workplace – as well as society as a whole – from discrimination and inequality. Streamlining several anti-discrimination laws into a single act, its provisions protect against discrimination and harassment in terms of gender, disability and maternity, along with a host of other issues.
As a result, your laboratory must comply with the requirements outlined by the act, including ensuring proper access and movement around the lab for everyone, regardless of ability.
There's something of a misconception that laboratories are unsuitable for people with disabilities. This is not the case, however, and as the Equality Act 2010 requires, all employers must treat people equally in terms of employment issues. Therefore, they have a duty to make the proper adjustments to working conditions, so that those with disabilities are not placed at a disadvantage.
Here, we'll guide you through the arrangements of your laboratory's layout and design to ensure you remain fully compliant with the Equality Act 2010.
Quick Navigation

Building Design

The design of your building should have the requisite disabled access to make sure everyone can enter safely and easily. For instance, it may be the case that your facility has wheelchair access. But is this a passageway close to a smoking area that's cluttered with obstacles? Certain members of staff may not find this to a pleasant way to access the lab.
The design should be one that ensures entering the building is a problem-free process. Wheelchair ramps should be clearly signposted, while handrails to the sides of ramps should be provided for those who need support when walking.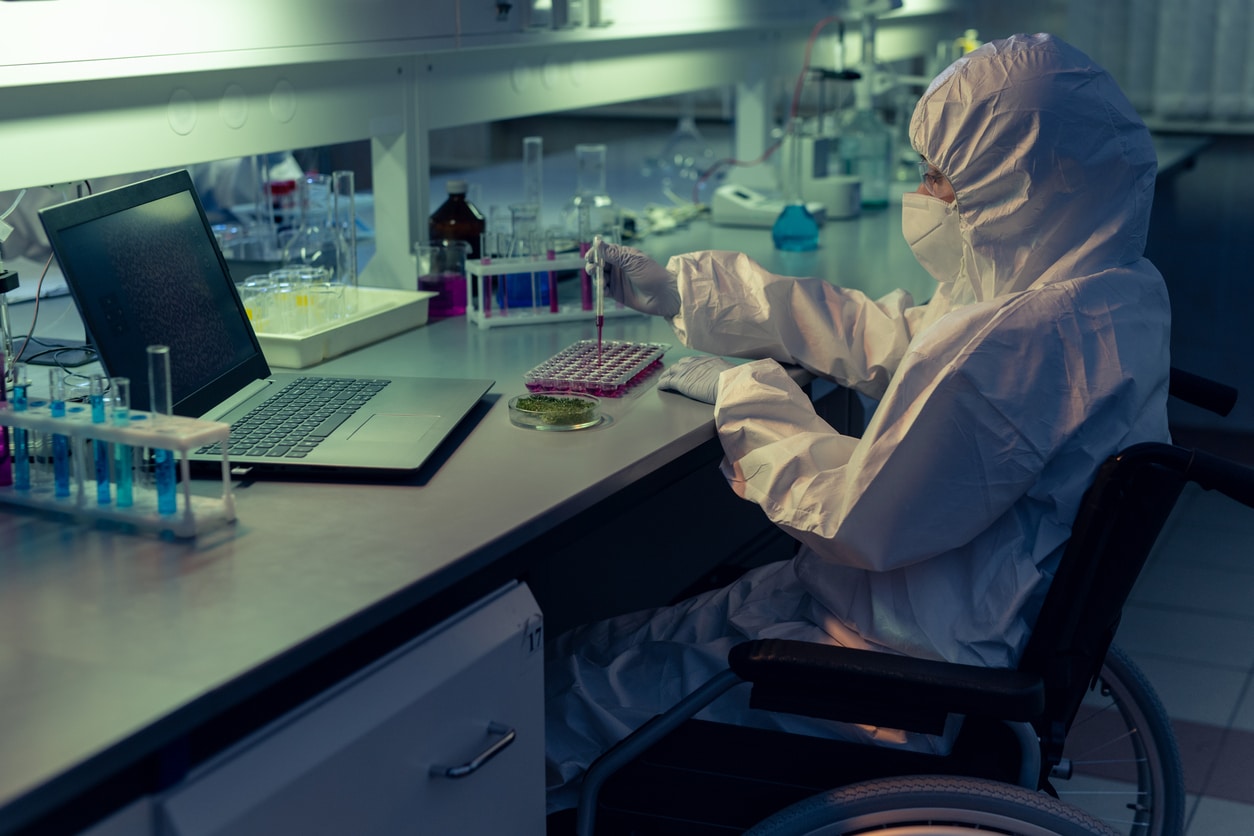 You should also be mindful of how doors to the building open too. Consider whether they're inwardly opening or automatic, or if there's a chance of swinging shut, whereby they could trap hands and fingers.
If there are PIN pads, they should be at an accessible height for wheelchair users, while fire doors should be wide enough to accommodate wheelchairs. Additionally, it might be worth fitting them with automated hold-open electro-magnet mechanisms for further ease of access. Likewise, is there reserved parking for disabled people? You may be in violation of the Equality Act if not.
Room Layout
In the lab itself, there should be adequate space, including the necessary distance between workspaces, as well as corridors that are wide enough to accommodate those with disabilities. The use of adjustable benches can also aid in adapting to the differing heights of those using chairs or wheelchairs too. Our active desk system, for instance, lets users adjust their desk or bench height in a stable and smooth manner for a more comfortable working experience.
Additionally, can equipment be readily moved to where others are working without problems? Likewise, the width of the bench may have to be altered so that taps, electrical power points and other controls are easily within reach.
Don't forget about the flooring either. Floors should be well maintained, and free from holes, unnecessary slopes and raised sections that can cause difficulties for those in wheelchairs or may be dangerous to partially sighted or blind employees.
In the event of emergencies, pull-cord alarm buttons should be provided so people can call for assistance, while including flashing lights part of the alarm system in all areas including the toilet can also help those who are hard of hearing. Additionally, you should ensure staff with disabilities are aware of the correct pre-arranged meeting place in case of emergencies.

Equipment Use
Every member of staff should be able to carry out laboratory work without problems. Issues with dexterity should be accounted for, using technological aids where necessary to support the completion of tasks.
For example, if someone isn't able to type on a computer keyboard, consider a dictation package to streamline the use of computer programs. Likewise, Braille notetakers and computers with screen reader and Braille displays are necessary for those with impaired vision. Similarly, ensure that cables and equipment are marked with dyno Braille tape so people can easily identify the necessary apparatus.
Washbasins should be at a suitable height so they can be used by anyone in a wheelchair. Lever taps can also be used since they can be operated by touch rather than needing to be turned – they're designed to be turned on by elbows and are easy to use.
Most, if not all, of the above, should be implemented in order to be compliant with the Equality Act 2010. In terms of access, most of the issues pointed out can be implemented at minimal cost.
Requiring new technology will be slightly more expensive, though correctly labelling equipment shouldn't be too cost-intensive and will be easy to implement. Disabilities should not prevent working in a laboratory – eliminating, reducing or controlling risks is a reasonable ask and easily implementable.
Enjoyed this article? Head over to the InterFocus blog for more informative and insightful features. And if you're looking for information about our bespoke fitted labs, then be sure to visit our homepage or call the team on 01223 894 833.