Laboratory Worktops | Precision made
There are many different laboratory worktop materials that can be used in the laboratory environment. Below are the main lab worktop materials we work with and use on a regular basis, with Trespa being the No1 choice for many laboratory installations.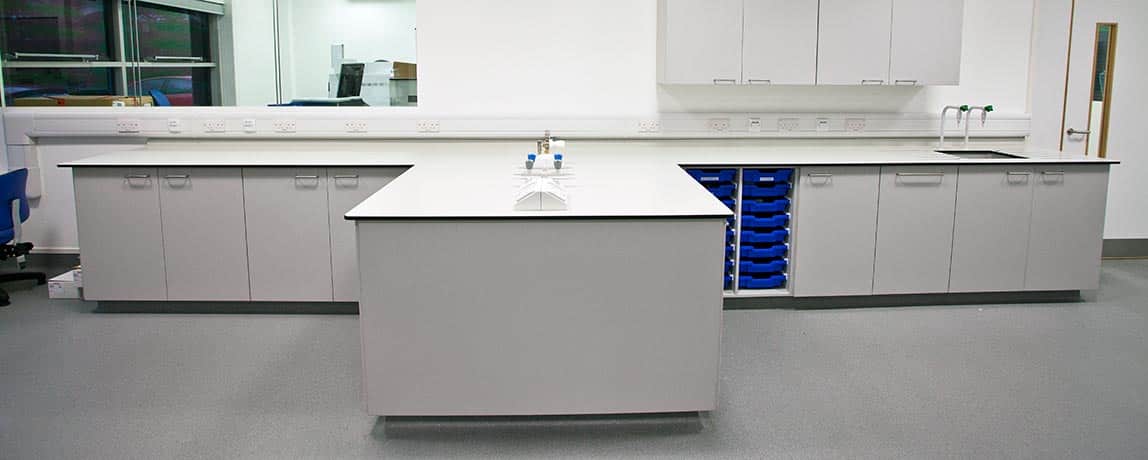 Bespoke Solutions
Worktops are precision cut to your requirements and installed by our experienced fitters. Our bespoke solutions are both cost and time effective. It doesn't matter whether you opt for stainless steel, laminate or Iroko for your laboratory surfaces, each worktop is designed with practicality and productivity in mind.
Our design teams ensure that ergonomics and health and safety requirements are always taken into account when planning lab designs, resulting in a comfortable, practical and high quality end product.
Quality Assured
At InterFocus, we have been designing, manufacturing and supplying laboratory furniture and equipment for over 30 years. From research and commercial labs, to science classrooms, turnkey laboratory services and hospital and clinical labs, we've done it all.
Whether you're looking for a comprehensive, full-service solution for a new or existing building, or have a lab that requires a complete refurbishment, our highly skilled team can help. Our experience and expertise guarantees a smooth and hassle-free experience from initial concept and design, all the way through to manufacturing and installation.
Visit Our Showroom
If you would like to discuss your worktop requirements in person with a member of our team, come and take a look around our showroom in Cambridge. We are always happy to welcome visitors and explain our planning and manufacturing process in more detail. Contact our customer care team to arrange a tour.
Your New Laboratory Starts Here
For more information about any of our products and services, including laboratory worktops, don't hesitate to get in touch with our dedicated team. Call 01223 894833 or send us details of your project via our contact page and we'll get back to you as soon as possible.
Enquiries and quotes are always obligation free. We're ready and waiting to help transform your lab into a haven for inspiration and discovery.