INDUSTRIAL |  RESEARCH | TEACHING  |  MEDICAL
lab furniture SUPPLIER AND MANUFACTURER in the uk
Lab Furniture From InterFocus
High Quality laboratory Furniture built in the uk
At InterFocus, we're proud to supply high quality laboratory furniture for the finest industrial, pharmaceutical, and educational laboratories across the country. As well as complete bench systems, we manufacture, supply, and install high-quality storage and under-bench furniture, including shelving and emergency wash stations. Our turnkey approach also ensures your lab furniture will be installed on schedule, on budget and with minimal disruption.
If you are unsure of how best to use your existing or new site, our team can produce a laboratory design that meets your requirements, including all associated building works and services. You can also visit our showroom where we can discuss all the options available including bespoke solutions specific to your laboratories needs.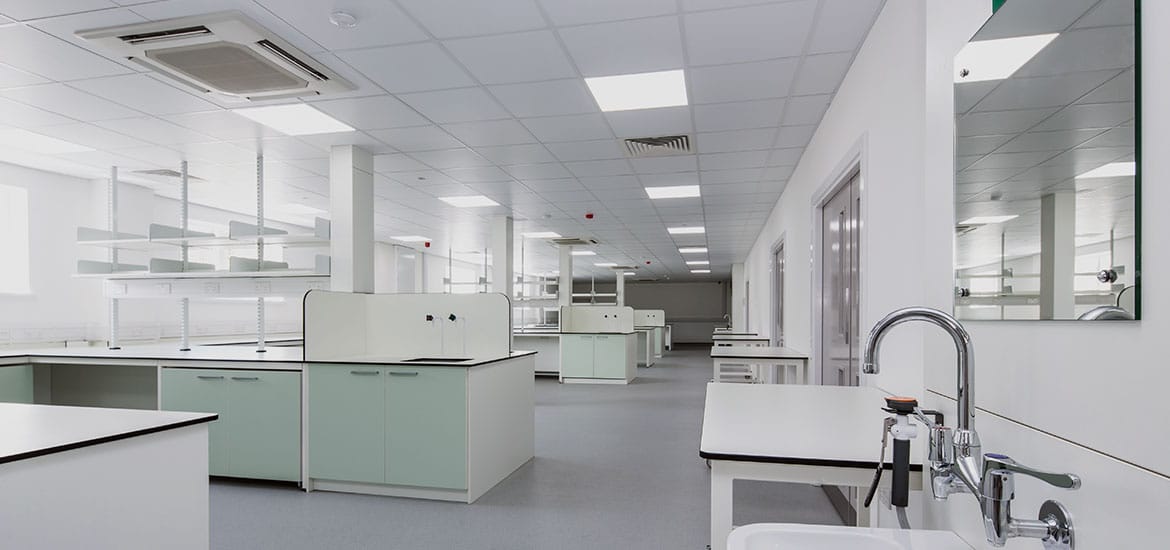 lab Furniture Manufacturers in Cambridge
As a leading laboratory furniture manufacturer, all our furniture is manufactured by us here in our UK-based factory. We've worked throughout the UK, across Europe, and around the world, so you can be safe in the knowledge that you'll be working with an experienced and professional laboratory furniture supplier.
The Perfect Design to Fit Your Laboratory
We understand the rigours and requirements that laboratories of all kinds deal with. That's why our range of lab furniture has been designed to perfectly meet these same needs. Our bespoke options mean we can create a unique laboratory furniture system and layout that meets the exact specifications of your laboratory requirements – whatever it is you need.
Exceptional Quality Laboratory Furniture
Here at InterFocus, we can provide high-quality laboratory furniture using the latest AutoCAD design packages and modern production methods. We're continuously investing in the best and most up-to-date equipment for our factory, ensuring we have the latest CNC machines, beam saws and edge banders.
Request our latest technical Brochure
introducing InterFocus Laboratory Furniture

Laboratory Underbench Furniture
From cupboards to drawer units, our range of under-bench laboratory furniture can easily be customised to fit the needs of your lab.

Laboratory Storage Furniture
Our lab storage solutions are designed with flexibility in mind. Whether you need storage furniture for your lab coats or a research laboratory, our units are adaptable to the needs dictated by your environment.

Wall Cupboard options include open fronted, solid and glass fronted doors, other options include sloping tops and sliding doors.

Adjustable shelving and suspended or bench level service spines can be helpful for labs looking to save on floor space or maximise the height of the lab they're working with.

We offer bespoke and standard IPS emergency eyewash stations that can easily be integrated across the rest of your lab. 

Our wide range of laboratory sinks and sink accessories provide a solution for every laboratory's requirements

Safe storage of your chemicals, acids, flammables and gases in the lab. Providing the latest in fire safety

Our wide range of laboratory sinks and sink accessories provide a solution for every laboratory's requirements

Practicality and efficiency are at the forefront of our workspaces and office desk design and installation services
InterFocus Laboratory Furniture Brochure
For more details regarding our complete range of laboratory furniture solutions, check out our brochure. Whether you're interested in our i1 systems and a full turnkey service or just need a few IPS stations, we're here to guide you in the right direction. Click the link below for more information to help you decide.
Our turnkey services allow us to design, cost and install full laboratory facilities. Here, we took their build from concept to completion in just 20 weeks. Find out how we used our furniture systems across this project.
We installed three floors of sturdy, robust, and sterile medical laboratory furniture for one of the largest healthcare providers in the West Midlands. Find out more below.
A new laboratory furniture contract fit out with Kier Construction and Cambridge University for the new David Attenborough Building Refurbishment.
Laboratory Furniture Thats Built To Last
Our laboratory furniture is constructed using the highest quality materials and components. We strive for sustainability and efficiency in all our builds. From soft close drawers and hinges designed to remain durable over time and to modern design handles for easy opening – our furniture is designed with the lab user in mind.
Choose InterFocus to design and build your new laboratory. Get in touch to discuss your options – either give us a call at 01223 894833 or contact us via our online enquiry form. You can also visit our purpose-built showroom, where we can discuss your needs and show you what we can do.