INDUSTRIAL |  RESEARCH | TEACHING  |  MEDICAL
IROKO WooD
Laboratory Worktops
lab solutions without compromise
Within laboratory design and furnishings, the selection of worktop material emerges as a pivotal consideration. Striking a balance between aesthetics, functionality, and safety might seem like a difficult task when choosing your worktop material, but at InterFocus, we pride ourselves on offering the very best for all types of labs. IROKO wood is an excellent solution to your worktop needs, offering a highly aesthetic and durable option suitable for use in a range of settings, from schools to chemistry and physics laboratories.
Among the myriad of worktop choices available, IROKO wood, native to the tropical regions of West Africa, distinctly stands out. This hardwood, popular for its resilient properties and characteristic aesthetics is a top choice for many physics and chemistry labs.
This hardy timber features a textured surface marked by lighter flecks. Colours can also vary from pale yellow and brown honey hues to deeper, darker tones. Iroko wood can bring a chic but rustic aesthetic to any space thanks to its unique appearance. But the main reason that this is a popular choice is because of its many resistant properties and longevity despite heavy use.
A Popular Choice for Physics and Chemistry Laboratories
Present in many physics and chemistry labs, IROKO worktops are the ideal choice due to their captivating grain and warm tones, which can seamlessly infuse a natural elegance into typically clinical scientific surroundings. Beyond their visual appeal, the properties of IROKO make it markedly resistant to a spectrum of chemicals, which lowers the risk of damage from accidental spills. In addition, due to its innate resistance to decay and rot, IROKO thrives in environments where potential exposure to moisture is a concern.
By opting for IROKO worktops, the laboratory space can be transformed into something that harmoniously marries functionality with appearance. Whether you're creating an entirely new lab setup or revitalising an existing space, IROKO offers unwavering reliability and refined choice.
Iroko and similar hardwoods are often the traditional choices for school laboratory classrooms and chemistry and physics labs. However, it's important to note that they're less suited for use in sterile environments because they can be more difficult to clean.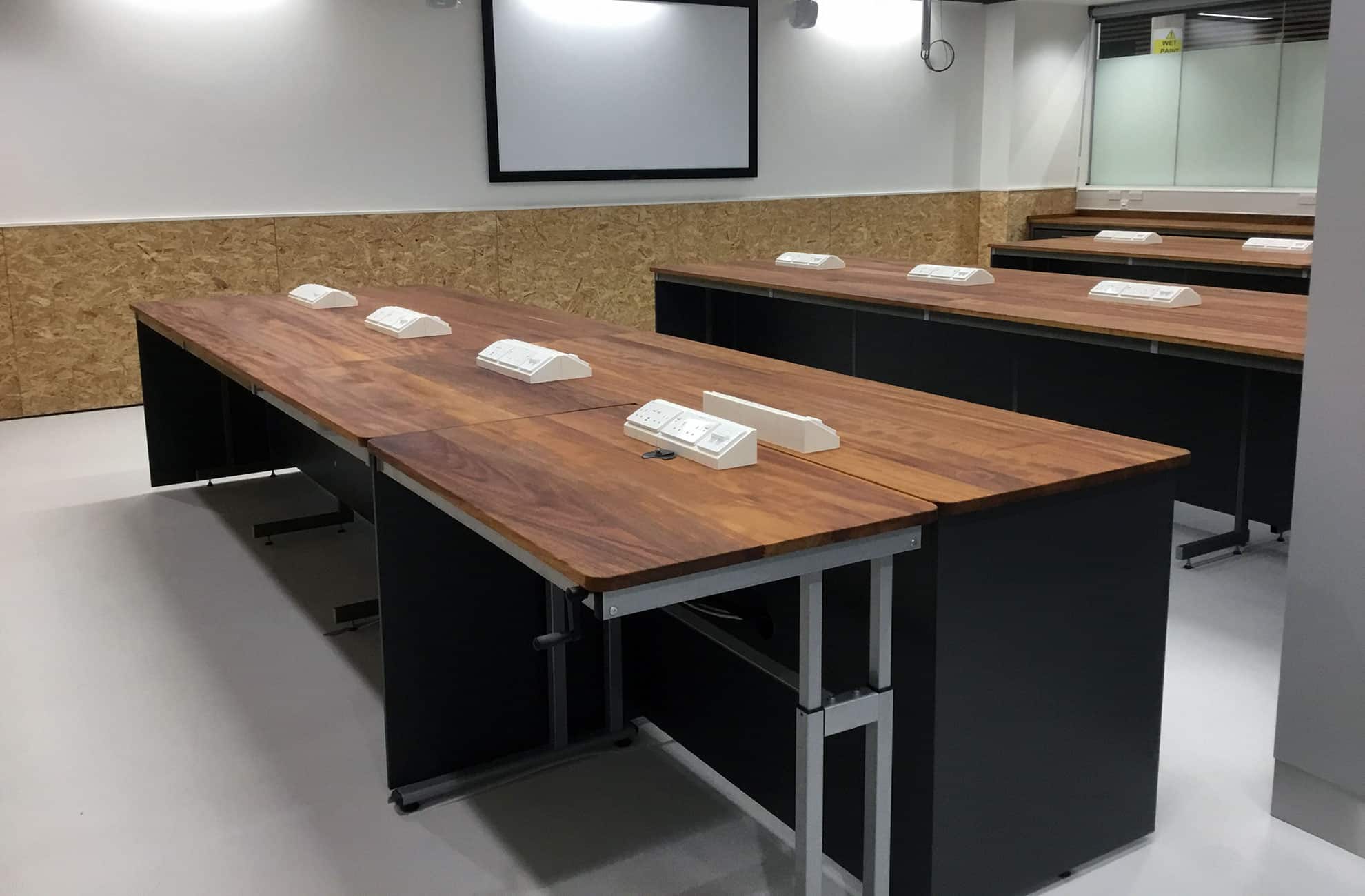 1. Durability: One of the biggest advantages of IROKO wood is that it offers natural durability. In the demanding environment of a physics or chemistry lab where equipment, tools, and materials are frequently changed or moved, the robust and long-lasting nature of IROKO ensures that the worktop remains in good condition for extended periods. And when the time comes to refurbish your Iroko wood, the top layer can simply be sanded and refinished, leaving your worktops as good as new for longer.


2. Chemical Resistance: Given that physics and chemistry labs often involve the use of various chemicals, the worktop material must be resistant to spills and corrosion. IROKO wood possesses a range of properties which make the worktop surface resistant to many chemicals, reducing risks associated with accidental spills or exposures.


3. Natural Aesthetics: The variety of iroko wood colours might be small, but with unique and intricate grain patterns of IROKO wood available, this choice of worktop can bring a touch of natural elegance to labs. This not only enhances the workspace's visual appeal but also promotes a more comfortable and conducive working atmosphere.


4. Sustainability: As the world moves towards greener practices, the choice of materials in any setting becomes vital. When responsibly sourced, IROKO wood presents an eco-friendly alternative to synthetic materials, aligning laboratory practices with sustainability initiatives.


5. Moisture Resistance: Labs, particularly chemistry labs, often experience variable humidity levels and potential moisture exposure. IROKO's natural resistance to rot and decay due to the high oil content ensures the worktop remains unaffected, even under heavier use.


6. Heat Resistance: Occasional exposure to heat is common in labs, especially when experiments require heating elements. IROKO's innate heat resistance offers an added layer of protection against accidental burns or damage to the worktop, meaning the appearance and integrity remain unaffected when the worktop encounters heat.


7. Long Term Cost-Effectiveness: While the initial investment in IROKO might be higher than some other worktop materials, its longevity and reduced need for frequent replacements or repairs make it a cost-effective option in the long term. The worktop is also low maintenance because of its high durability, meaning you can save money on the upkeep.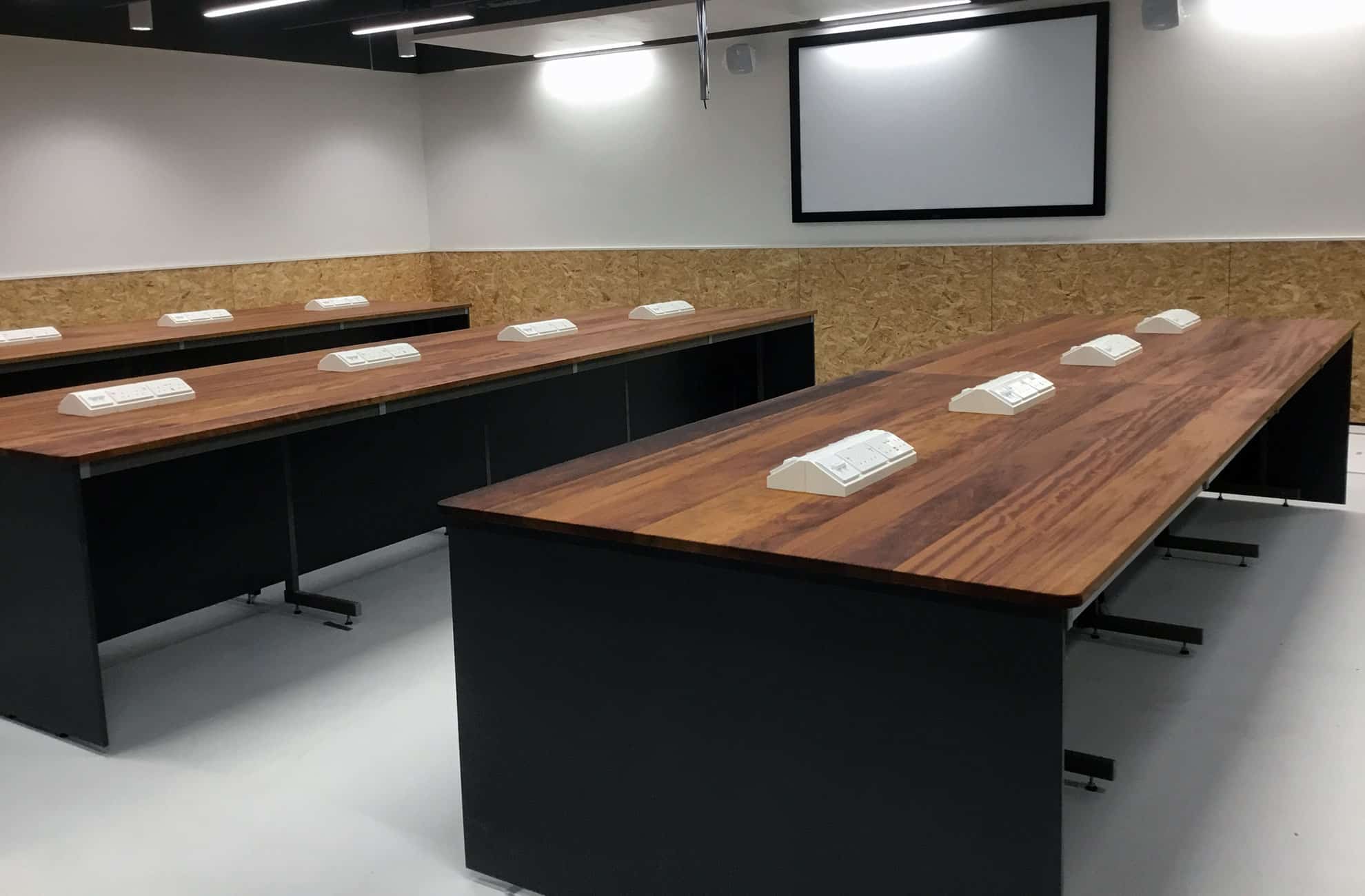 Get in touch to book a visit and discuss your requirements
Our sales team are happy to help, whether you'd like more information about our selection of worktops or want to discuss your lab's requirements. All quotes and enquiries are completely obligation-free, so call us today on 01223 894833, or complete an online enquiry form and we will be in touch soon to discuss your project in more detail.
JUST SOME OF OUR CASE STUDIES
SHOWCASING OUR TURNKEY LABORATORY construction projects FOR some of OUR CLIENTS