INDUSTRIAL |  RESEARCH | TEACHING  |  MEDICAL
lab solutions without compromise
Safety Storage Cabinets for Labs
At InterFocus we offer safe storage solutions for chemicals, acids, poisons, flammable liquids and solids, compressed gas and data products. We primarily recommend the Labor Security SAFETYBOX® range of safety storage cabinets to our customers as we believe them to be the very best on the market in terms of safety, functionality, technical features, high quality and overall value for money.
With over 20 years in the industry, Labor Security System have established themselves as market leaders in safety storage cabinet design and they are the first choice for safety cabinets across the commercial, educational, industrial and pharmaceutical sectors
Solutions for safe storage of chemical, acids, flammables and gases
Our range of flammable storage cabinets has been designed to store solid or liquid flammable products, providing either 30 or 90 minutes of fire resistance. 
We have a choice of designs which includes tall cabinets and under bench liquid storage cabinets with drawers or swing doors. Our flammable storage cabinets are TÜV certified and meet EN 144070-1 and EN 14727 standards.
Our storage solutions for compressed gas include both external and internal safety cabinets to hold compressed gas cylinders. Each cabinet is TÜV certified and our internal range complies with EN 14470-2 and EN 14727 standards.
Chemical and Acids Storage
For chemical storage, we offer a range of both tall and under bench cabinets with the choice of one or two doors. These include pull out compartments. Our cabinets allow you to store acid and base products in different compartments. They are aspirated and filtered, complying with EN 60335-1, EN 60335-2-80 and EN 61010-1 standards.
For labs wanting to store acids, chemicals and bases, we recommend our Kemfire range. This includes both filtered and aspirated safety cabinets that allow combined storage of acids, bases and chemicals for liquid and solid flammables. Our Kemfire range comes in a very wide range of sizes and features to meet your individual needs and offers compliance with EN 14470-1, EN 14727 – Type 90 and EN 61010-1.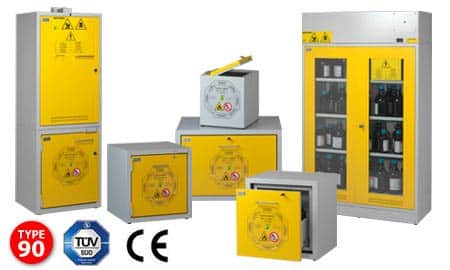 Labor Security System is active in the Italian and the international markets in the field of planning and production of their range safety storage cabinets, SAFETYBOX® for the storage of flammables, compressed gases, acids and bases along with their activated charcoal filter CARBOX®.
Labor Security System is the right choice for safety and prevention. Our products are designed respecting the actual norms of our specific field. 
Our aim is to give our customers safe and functional products, technologically competitive and high quality. SAFETYBOX® is today synonymous of security and its trademark is a guarantee for even the most discerning customer.