INDUSTRIAL |  RESEARCH | TEACHING  |  MEDICAL
Laboratory Specialist Gases
lab solutions without compromise
InterFocus can offer a wide range of high-quality and safety-compliant services to facilities and laboratories using specialist gases.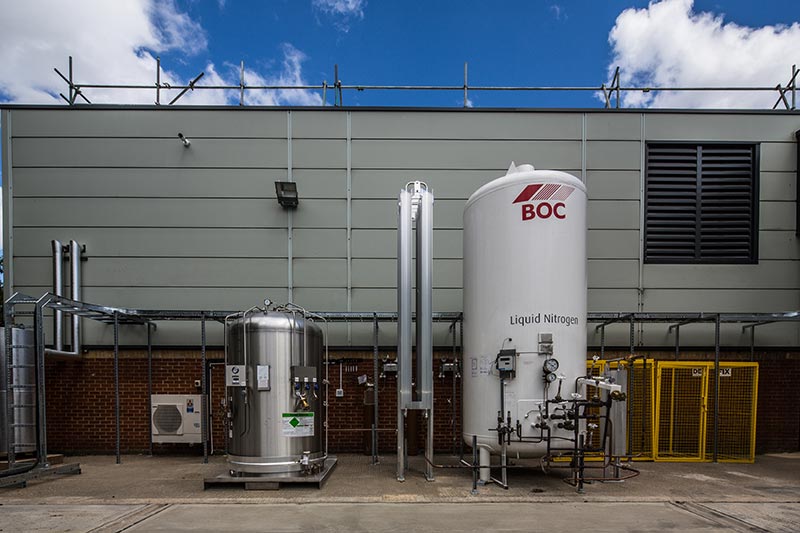 SPECIALIST GAS SUPPLY AND STORAGE
We offer a range of gas supply and storage services, including materials from copper to stainless steel. We also design, install & maintain all laboratory bottled gas systems and bulk storage.
Our services don't end there – we continue to assist our customers beyond installation with specialist preventative maintenance services, electrical and mechanical manufacture and installation services and the supply of proprietary and bespoke gas hoses, fittings, and control equipment.
We design and install a wide range of specialist gas systems required in a modern-day laboratory
Pressure Regulated Systems
Wet Systems for Laboratories
Bulk and Bottle Storage Systems
Industrial Gas Supply Systems
Automatic Changeover Systems
Manual Changeover Systems
The system you need will vary based on the duties of your institution, which is why we offer this range to our customers. Finding a beneficial gas system that works for you is our priority.
Whether you have a smaller site requiring industrial supply systems or your laboratory deals with an abundance of liquid substances, we can walk you through how each system operates and how it could support you.
Our advisors will be on hand throughout the entire process to help guide you toward the recommended system installation.
Safety With Specialist Gas Systems
We can deliver bespoke and standard solutions for fume cupboards and extraction systems. Our options can be suitable for research and industrial laboratories, healthcare laboratories and other research centres. Whatever your needs or budget, we can design the perfect solution.
Our effective systems will limit or prevent exposure to hazardous gases, vapours, aerosols, and particulates.
All our storage and extraction solutions comply with the highest safety standards, to ensure you can have peace of mind. At each stage of your project, our gas experts and engineers will be on hand for any safety issues or queries you might have.
At InterFocus, we're dedicated to helping scientific minds make their ambitions a reality.
Regardless of your service requirements or project size, our highly trained team can guide you through the entire design, installation, and maintenance process from beginning to end.
 We want to ensure the final solution meets the unique requirements of staff, students, and colleagues in any setting.
Our specialist gas services can help your institution take learning further. Get in touch with our dedicated customer care team if you would like any information or guidance. Call 01223 894833 or complete an online information request form.