INDUSTRIAL |  RESEARCH | TEACHING  |  MEDICAL
Epoxy Resin
Laboratory Worktops
lab solutions without compromise
In the demanding environments of UK laboratories and commercial spaces, epoxy resin worktops have proven themselves time and time again as a popular worksurface solution. Crafted from a specialist thermosetting polymer, these worktops adeptly marry resilience with unparalleled functionality.
Epoxy resin laboratory worktops are suitable for use across a variety of environments, including chemistry and biology labs as well as research labs, wet areas and any other areas requiring great heat and chemical resistance. Epoxy resin has a number of properties that make it a go-to choice for high performing surfaces, particularly if you're looking for something that can accommodate heavy-duty use.
Unparalleled Resilience
Designed specifically for the rigours of professional settings, these worktops offer exceptional resistance to scratches, abrasions, and the general wear and tear of daily use.
Superior Chemical Resistance
Given the frequent exposure to a myriad of chemicals in such spaces, it's no surprise that these worktops have been engineered to offer a robust defence against spills and contaminants.
Seamless Elegance
The ability to provide continuous surfaces without conspicuous joins not only enhances the aesthetic appeal but also simplifies cleaning, thus reducing contamination risks.
Heat and Impact Tolerance
Furthermore, these worktops possess an admirable resistance to heat from various equipment, and they stand up well against the impact of dropped tools or materials.
Optimal Hygiene
Their non-porous nature is especially noteworthy, ensuring minimal bacterial growth, a feature that's indispensable for spaces where cleanliness is paramount.
Stylish Appearance
Epoxy resin surfaces are an attractive choice with neutral colours available to suit any laboratory environment, bringing a smart finish to your commercial setting.
Value for Money
Epoxy resin surfaces are an attractive choice with neutral colours available to suit any laboratory environment, bringing a smart finish to your commercial setting.

For those in the UK seeking a worktop solution that seamlessly blends durability with rigorous hygiene standards, epoxy resin worktops are undeniably a prime contender. It's always recommended to collaborate with trusted professionals who have a keen understanding of the bespoke needs of these specialised environments.





Maintaining Epoxy Resin Worktops
To ensure the longevity of your laboratory worktop, it's vital to adopt good maintenance practices. Firstly, always address spills immediately. While these surfaces are designed for durability, letting aggressive chemicals or stains linger can be detrimental over time. If staining does occur, it's possible to remove them using polish or fine abrasive paper. However, it's worth noting that while this doesn't compromise the worktop's performance, it can alter its appearance.

For maintaining that sleek gloss finish, we recommend periodic application of a wax furniture polish. Lastly, for the sake of the worktop's integrity, avoid exposing it directly to extreme cold sources like dry-ice or liquid nitrogen. Similarly, when using steam baths or hotplates, always place insulation pads in between to ward off potential thermal stress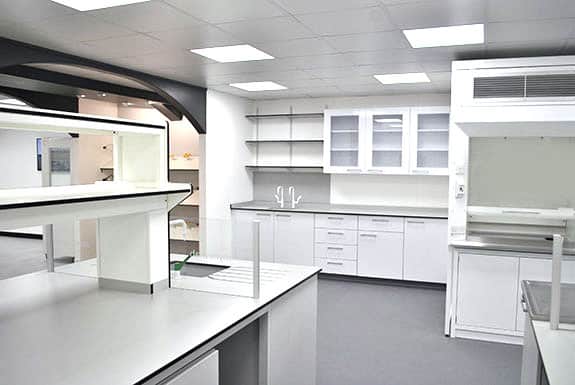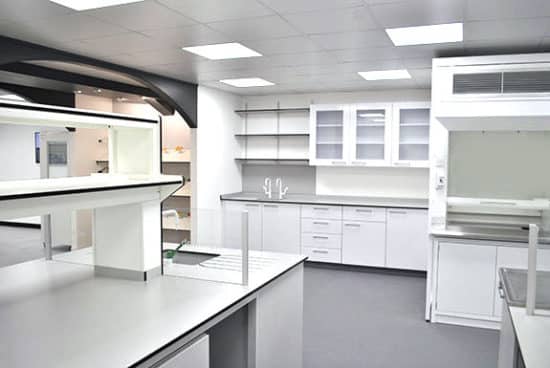 WHY NOT Visit Our Showroom and Factory
We always welcome visitors to view our manufacturing process and to see our product range within our modern showroom. Its the ideal opportunity to meet the team and discuss your project in more detail. We look forward to meeting you and discussing your next project.
JUST SOME OF OUR CASE STUDIES
SHOWCASING OUR TURNKEY LABORATORY construction projects FOR some of OUR CLIENTS