INDUSTRIAL |  RESEARCH | TEACHING  |  MEDICAL
BIM Laboratory Furniture Design
lab solutions without compromise
Building Information Modeling - BIM
Using Revit Architecture, InterFocus are able to provide services that help in the process of design and layout using Revit 4D technology.
We can work closely with Architects and Designers on collaboration in the BIM model using our Revit Level 2 BIM laboratory furniture families.
At InterFocus, we're well-equipped to provide enhanced layout and design services for your laboratory.
Using Revit Architecture from Autodesk provides access to ground-breaking 4D technology that allows us to take your Building Information Model to the next level. We can also work closely in collaboration with teams of architects and designers using our Revit Level 2 BIM laboratory families.
Using Revit Architecture from Autodesk, we can provide BIM services in the design and layout process using the latest Revit 4D technology.
Using BIM here at InterFocus allows us to understand how space, materials, and systems within a project will interrelate. The Revit database will then take the Architect or Design team building proposal and insert a model integrating the designs with those of the structural and M&E contractors. Revit's tools allow our Architects and Designers to plan and track build cycles.
All our laboratory furniture range is available up to BIM compliance Level 2, which means that efficient collaboration can occur between all the teams involved in the project. The dataset of the prospective build can be shared easily to provide a solid guide for moving forward.
At this level, non-graphical information such as specifications and schedules links to the graphical 3D model. The team can explore the data by navigating the different corresponding aspects of this model.
Clicking on a light within the model, for instance, will provide information on its manufacturer, cost, performance level and when it needs replacing. This approach also goes both ways since clicking on non-graphical information will send you the location of that feature within the 3D representation.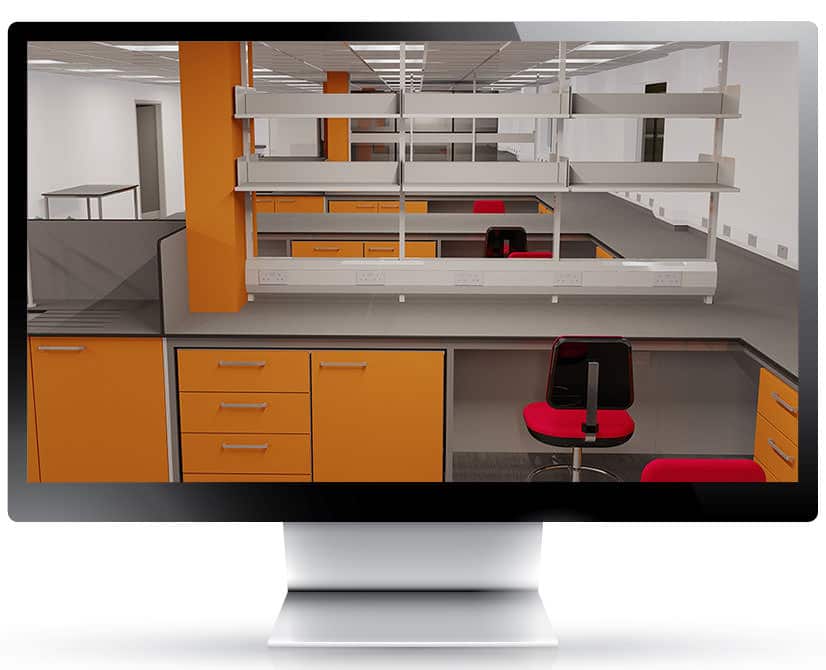 2D and 3D Laboratory furniture Layouts
Using intelligent 3D building design tools, such as Autodesk, AutoCAD, Inventor, and Revit Architecture, we can provide 2D layouts, building up to detailed 3D design renders of your lab. We can take you from Level 0 to Level 2 of the BIM compliance levels to ensure total transparency and a highly collaborative process.
The accuracy is unmatched once we reach the 3D design phase – we can use your chosen colour schemes and exact measurements to create a complete visual model of the proposed furniture design and layout.
Being equipped to provide these detailed visualisations of the project can be handy for everyone – from the client to the designers and installation teams.
Benefits of BIM in the Design Stage
Businesses of all sizes and in any sector can benefit from BIM modelling, with advantages including:
One of the major benefits of including BIM in the planning and design stage is that you can avoid unnecessary risk. Read more about the risk-averse nature of BIM in our in-depth guide, where we also explain how it can continue to benefit you right through to completion.
Choose InterFocus for your BIM project
As more architect and design teams collectively use BIM to develop and provide their final project designs, the project management process has been streamlined.
Managing the various scopes of work mearlier in the design process rather than once construction gets underway makes it easier for BIM collaborators to fix issues that may arise.
By using a laboratory furniture specialist such as InterFocus and our BIM Laboratory Furniture families, planners and designers can integrate this all within the design model and elevate the overall design coordination.
InterFocus Revit Family blocks are available for our full range of laboratory furniture solutions to help bring the planning and design phases of a project to life. For more information, please 
contact us
 or speak with our BIM specialist at 
01223 894833
 to see how we can help.