INDUSTRIAL |  RESEARCH | TEACHING  |  MEDICAL
Stainless Steel
Laboratory Worktops
lab solutions without compromise
Stainless Steel bespoke Lab Worktops
In today's advanced laboratory settings, 316 stainless steel worktops stand out as the embodiment of functionality and elegance. These worktops are highly revered for their remarkable strength and effortless cleanliness.
Beyond their robust nature, stainless steel surfaces also offer a sleek, modern touch to any laboratory, ensuring a blend of performance and style. For meticulous research, complex experiments, or routine testing, our stainless steel worktops are the trusted choice.
Stainless steel laboratory worktops are highly versatile, as well as offering invaluable properties such as head and chemical resistance. It is typically the preferred choice for sterile environments, as it is non-porous to maintain a high standard of infection control. Grade 316 stainless steel is also known for its excellent corrosion and oxidisation resistance.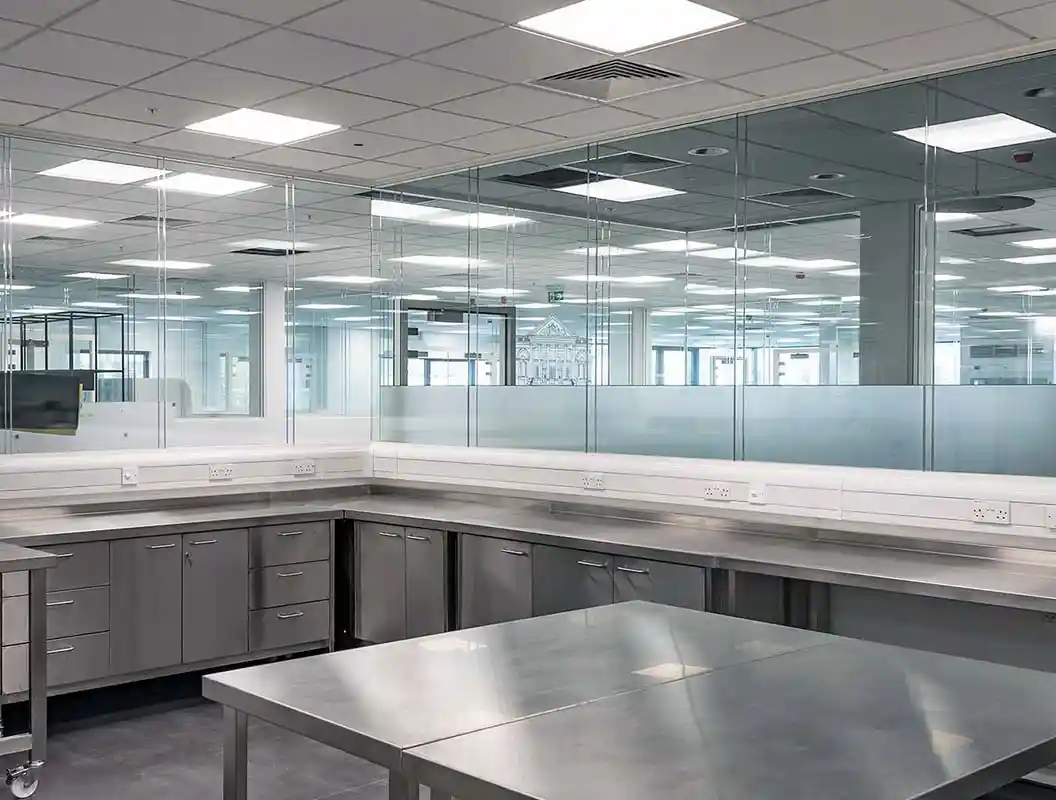 The Advantages of Bespoke Stainless Steel Worktops for laboratories
Bespoke stainless steel worktops elevate laboratory environments to new heights of functionality and efficiency. Here's why:
1. Tailored to Needs
Every laboratory has unique requirements. Bespoke worktops are crafted to specific dimensions, ensuring an optimal fit for any lab layout or specialised equipment, eliminating wastage of space or mismatched setups.
2. Enhanced Durability
Custom-made stainless steel worktops can be designed with thickness and reinforcement precisely where needed, ensuring a longer lifespan and resistance to heavy usage.
3. Seamless Integration
A custom approach allows for seamless incorporation of sinks, fixtures, and other utilities, creating a fluid work environment that minimizes crevices and promotes cleanliness making them ideal for labs that work with radioactive samples.
4. Aesthetic Appeal
Beyond functionality, bespoke designs can aesthetically complement the existing laboratory decor, lending a cohesive and sophisticated appearance.
5. Easy to clean
Beyond functionality, stainless steel is ideal for areas that require constant cleaning and a sterile surface.
6. Cost Efficiency
While the initial investment might be higher, the long-term savings from reduced maintenance, replacement costs, and maximized operational efficiency make bespoke stainless steel worktops a wise financial choice.
In essence, opting for bespoke stainless steel worktops is a testament to a laboratory's commitment to excellence, precision, and future-focused investment.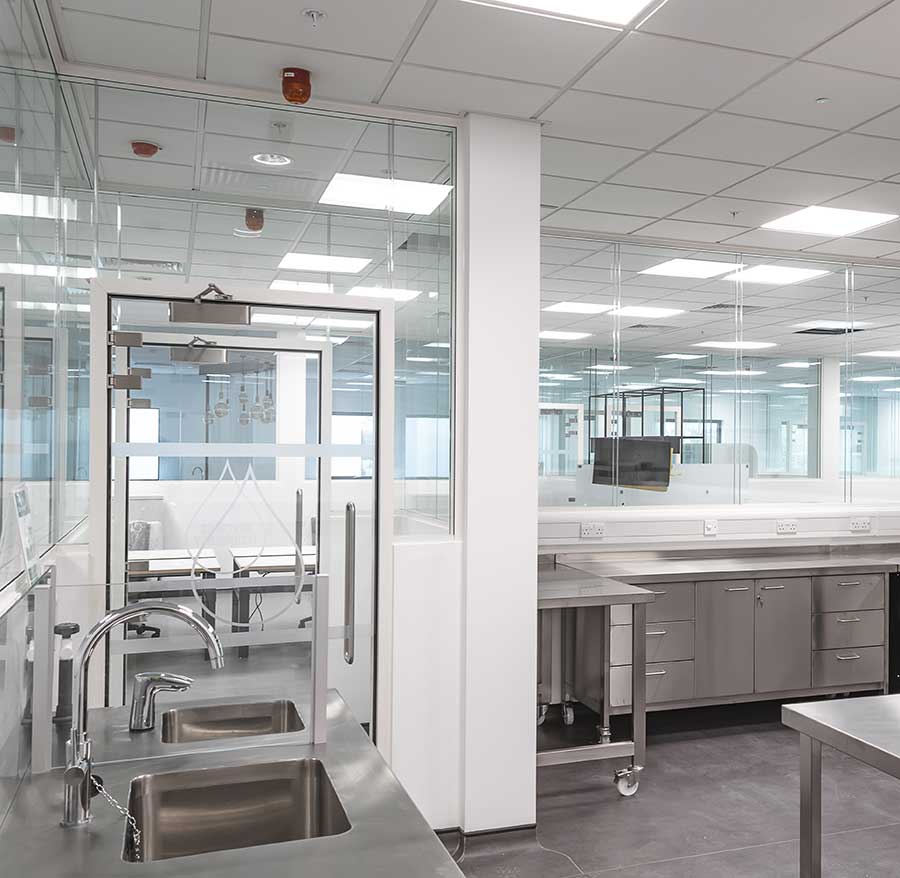 Stainless steel is a versatile material and as such it is a popular choice for a number of different applications across your laboratory. This includes the likes of complete furniture units and mobile benches. Grade 316 stainless steel is an ideal solution for use cases like clean room environments and wet lab areas that require regular clean-up operations. Stainless steel work surfaces lend themselves well to areas that require a sterile environment, including hospital or medical research labs.
At InterFocus we offer precision-made stainless steel laboratory worktops that are bespoke to your requirements. From simple bench runs to more complex projects, we can provide the solutions you need at the quality you expect.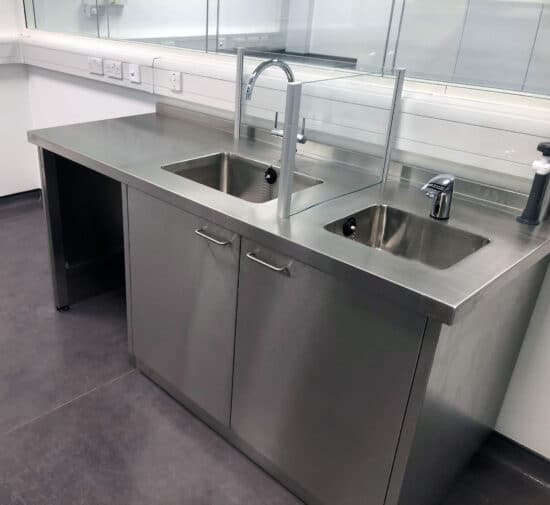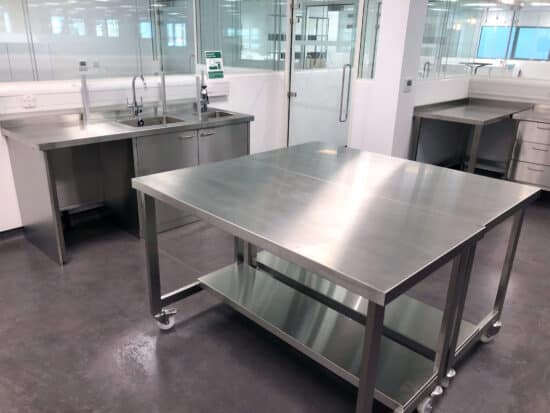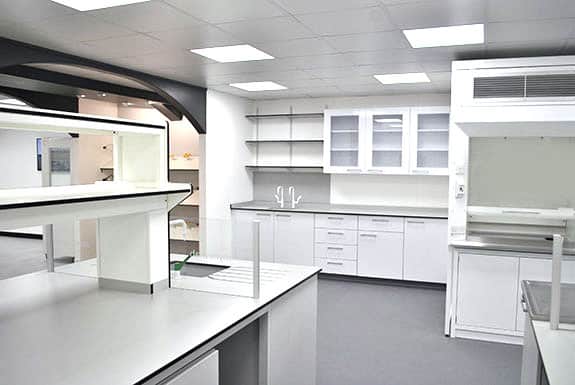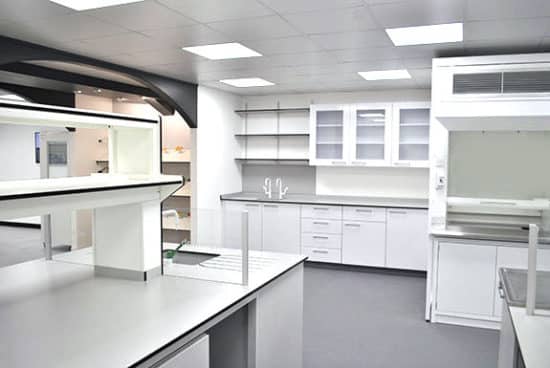 WHY NOT Visit Our Showroom and Factory
We always welcome visitors to view our manufacturing process and to see our product range within our modern showroom. Its the ideal opportunity to meet the team and discuss your project in more detail. We look forward to meeting you and discussing your next project.