INDUSTRIAL |  RESEARCH | TEACHING  |  MEDICAL
lab solutions without compromise
Choosing the right Laboratory Sink
InterFocus
offers a range of laboratory sinks to suit every application. Our inset, under-slung and drop in sinks all come in a choice of epoxy or stainless steel.
Popular and Common Sink Types
Epoxy resin is a popular choice for sinks in the 
laboratory setting
. It is highly durable and extremely resistant to solvents, many acids and other inert chemicals that are typically found in both educational and commercial labs.
Many of our customers choose epoxy sinks because they provide a good all-round flexible solution. Labs that use sulphuric acid, hydrochloric acid, hydrofluoric acid or nitric acid and other similarly corrosive compounds will benefit from choosing an epoxy resin sink.
Stainless steel is a good choice for the laboratory where acids or other corrosives will not be used, and a popular choice for wet labs. Stainless steel is non-porous and hygienic, resistant to both heat and fire, and easy to clean and maintain. It is strong considering its light weight, and resistant to many types of corrosion.
It is also easy to cut, weld and adapt to the space available. Stainless steel is long lasting and will maintain its attributes even in very wet or hot environments, making it good long-term value for money in many laboratory settings.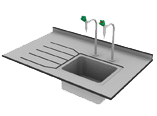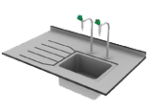 FLAT FLANGE
REBATED INTO TOP
SITE SLIGHTLY BELOW TOP
REBATED WITH CHAMFER
OPTIONAL DRAINER GROOVES
STAINLESS OR EPOXY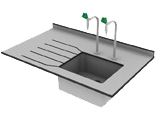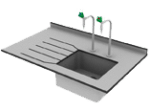 FLAT FLANGE
FIXED UNDER TOP
10MM WORKTOP OVERHANG
OPTIONAL SINK LID
OPTIONAL DRAINER GROOVES
STAINLESS OR EPOXY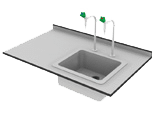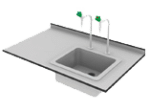 RAISED FLANGE
SITS PROUD OF TOP
STAINLESS OR EPOXY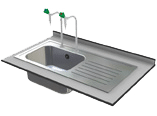 INSET INTEGRAL SINK
STAINLESS OR EPOXY
SIMILAR TO KITCHEN SINK
INTEGRAL DRAINER
ANTI DRIP EDGE
With years of experience advising customers in the set up and refurbishment of both industrial and educational laboratories we can help you choose the ideal sink for your particular laboratory environment.
We can also help you select the perfect high quality, robust taps for your laboratory from our extensive range which includes market-leading brands such as BROEN-LAB, Watersaver Labtaps, Brownall Labtaps and others.
We provide many of the leading brands such as BROEN, WATERSAVER, BROWNAL and others