INDUSTRIAL |  RESEARCH | TEACHING  |  MEDICAL
Laboratory Ancillary Items
lab solutions without compromise
There's much more to a laboratory than just its furniture and worktops. An efficient and productive laboratory can often rely heavily on its ancillary items, which are there to support the operation of a lab and make it possible for the laboratory to function successfully. Without quality laboratory ancillary items, a lab may not be able to carry out even the simplest of tasks.
At InterFocus we are able to provide laboratories with ancillary items that have been designed with quality, safety and longevity in mind. Laboratory ancillary items including laboratory sinks, taps and fittings, safety storage cabinets and laboratory flooring can make a huge difference to the everyday running of your lab. What's more, we have teamed up with some of the leading laboratory equipment brands and suppliers so that your new equipment can be purchased and installed during the laboratory build, rather than after the build is complete, in order to minimise downtime and costs.
With a choice of inset, under-slung, drop on and inset and drainer sinks, we have the right laboratory sink to suit your needs. Our laboratory sinks are available in two finishes, epoxy resin and stainless steel. Consider the main use for your sink when it comes to choosing the right sink for your lab, as stainless steel is more suitable where corrosives will not be used while epoxy resin can offer resistance against solvents, acids and other inert chemicals. You can find out more about our range of laboratory sinks here.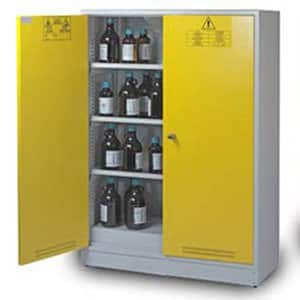 It's essential to have the right storage for the likes of chemicals, acids, poisons, flammable substances, compressed gas and data products. We can offer both tall and under bench storage cabinets, with various configurations including drawers, doors and pull-out compartments. Designed to comply with the necessary standards, our range of safety storage cabinets are able to provide safety and prevention to reduce risk of exposure to dangerous materials. What's more, the safe storage solutions that we recommend also deliver the best technical features, functionality and overall value for money.
Laboratory Showers and Taps
We offer a range of laboratory taps and fittings that are ideal for use in a wide range of laboratory types. Working with leading brands including Broen-Lab, WaterSaver and Brownall, we're able to provide an extensive collection of lab taps that have quality, reliability, functionality at the forefront of their design. What's more, our industry knowledge allows us to help you find the right solution for your needs, including high flow water valves, chemical waste fittings, gas taps and emergency shower systems.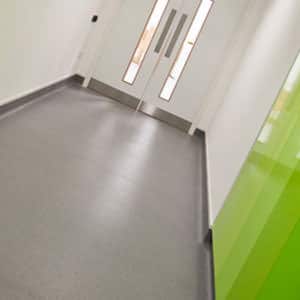 Choosing the right flooring for your laboratory can be critical in keeping the workplace safe and durable. For instance, laboratory flooring may need properties such as chemical and abrasion resistance and able to withstand extreme temperatures, as well as being slip-resistant, non-absorbent and easy to clean or maintain. Despite so many practical factors to consider, it's also key to think about the aesthetics of your laboratory flooring too. We can help you to find the right laboratory flooring to suit the individual needs of your lab environment, whether it's a school or commercial scientific laboratory.
The right laboratory ancillary items should have the ability to improve the health and safety of your lab, ensuring that everything operates as it should while offering the necessary protection from potentially hazardous substances.
Whether we are sourcing a laboratory sink with the required taps, or something more complex such as a chemical storage solution, we look for exceptional performance and durability in all of our recommended laboratory ancillary equipment.
All of the products we supply have been widely used by our client base through the years and we are confident of their quality, safety and longevity. Our clients can concentrate on their business with full confidence that the ancillary items we have recommended will function perfectly for years to come.