Laboratory Fume Cupboards
Our fume cupboards are designed for the rigors of research and industrial applications, but have a competitive price making them suitable for school labs. Our expert on-site team can offer you installation to give you peace of mind that the fume cupboard is fitted to the highest safety standard. Our i-series range of ducted fume cupboards delivers both a high quality and a competitive price. This range is designed to withstand heavy lab usage and comply with the requirements and recommendations of BS7258 (1994) and EN14175.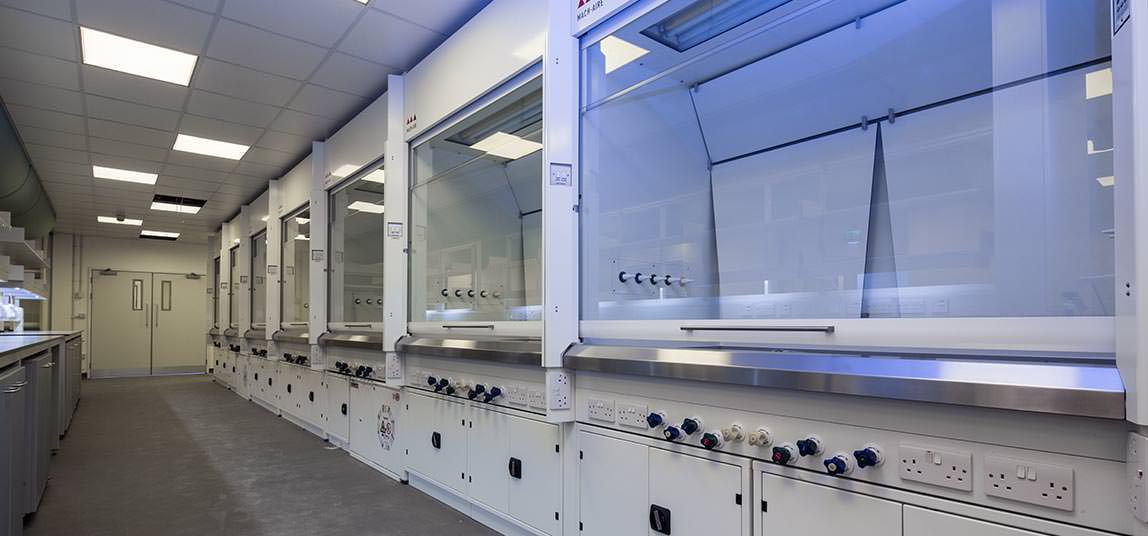 Standard Fume Cupboard Specification
Our standard bench mounted range is available in 1200mm, 1500mm, 1800mm and 2000mm formats.
Manufactured in zinc-coated mild steel, the side cheeks of the fume cupboard are 150mm in width, designed with an angled air entry profile for aerodynamics.
The front edge is a polished 316-grade stainless steel sill, however a wide range of materials are available for the work surfaces such as epoxy resin and Trespa.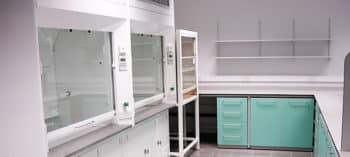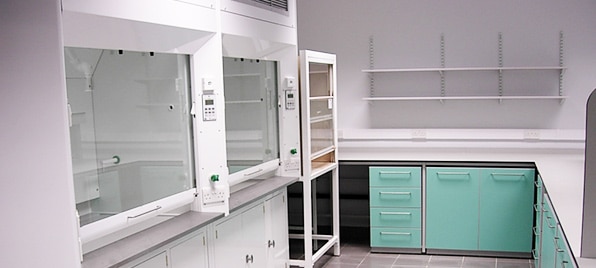 Can I order a custom fume cupboard?
Our fume cupboards can be adapted to suit your exact requirements. Our custom service can add internal work surfaces and sinks as well as waste, gas and water fittings. All bespoke sizes of external and internal widths, depths and heights can be easily manufactured with no large cost penalty.
Options
Attractive design, with an aerodynamic zintec mild steel outer carcass with an epoxy polyester powder coated gloss finish.
Air by-pass via louvered aluminium grilles available.
Infill panelling by extended continuous side panels can be provided with front panel supported on gas struts for easy access for maintenance.
Internal chamber and baffles constructed from Trespa as standard, with options for PVC, polypropylene, 316 grade stainless steel, toughened glass or cast epoxy resin.
Two independent toughened glass vertical sliding sashes with failsafe mechanism on single weight system – option for sashes can be combination style with horizontal sliding windows available.
Floor level and intermediate removable worktops manufactured from cast epoxy resin and dished – options for Ceramic, Trespa, PVC, polypropylene and 316 grade stainless steel available.
Range of wet and dry services plumbed in rigid copper or flexible pipework.
Range of wall mounted and recessed polypropylene drip cups and vulcathene bottle traps.
Range of switch socket outlets, RCD protection, data outlets, etc., available.
Twin fluorescent light fittings and light switches fitted as standard – low level lights available as an option.
Programmable controls panels to meet EN14175 fitted as standard incorporating low airflow alarms and fan stop/start facility. **
PVC ductwork connection pieces with integral volume control dampers fitted as standard.
Adaptable for use as on a constant air volume or variable air volume extract system.
Scaffold bosses and framework can be fitted.
Pass through ports between inner and outer skins can be provided.
Fire suppression systems can be provided.
Tissue guards/paper restrictors to back baffles can be provided.
** Some features may require wiring by others subject to scope of works. Final specifications subject to change.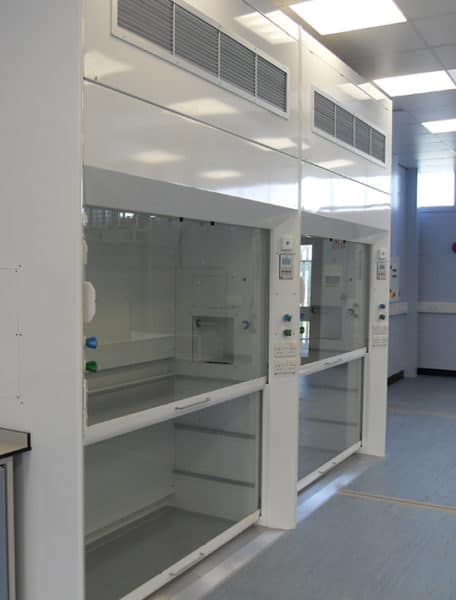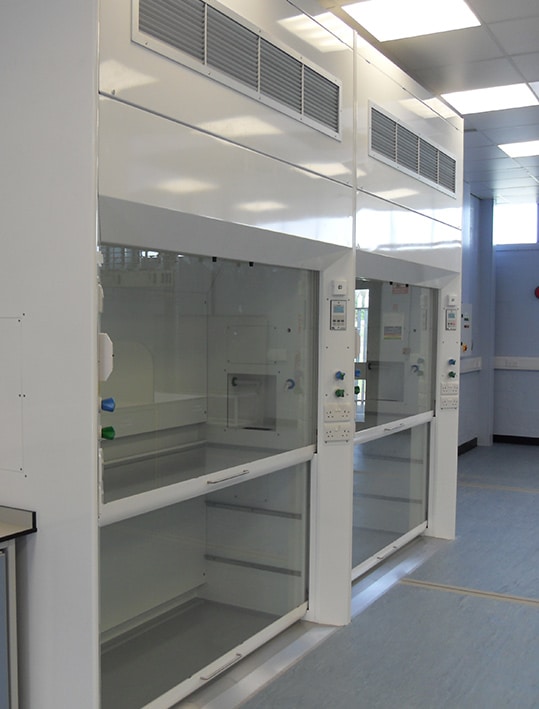 Call us on 01223 894833 to discuss your fume cupboard requirements
We can provide all types of fume cupboards and fume extraction solutions