INDUSTRIAL |  RESEARCH | TEACHING  |  MEDICAL
IFlexx® gantry and ceiling tile service modules
flexible modular laboratory services
iflexx modular overhead service MODULES
Introducing the iFlexx iGantry and iTile service modules, providing flexible service delivery modules for your new lab, when seamlessly combined with our iFlexx modular benches, delivers an unparalleled flexible modular laboratory solution tailored to satisfy even the most exacting client demands. The iGantry service unit, a versatile overhead service carrier, effortlessly accommodates power, data, and gas services, while the iTile service unit, a ceiling-mounted carrier, ensures greater flexibility and ease of installation.
By harmoniously integrating the iFlexx modular lab benching system with these service units, we are able to offer a vast array of configurations to suit a diverse range of laboratory applications, spanning from fundamental research to sophisticated testing and analysis. Consequently, our clients are presented with a fully integrated and bespoke lab solution that not only fulfils their specific needs and requirements, but also delivers exceptional flexibility, adaptability, and user-friendliness. Experience the future of laboratory solutions today with our iFlexx system, and unlock the full potential of your research environment.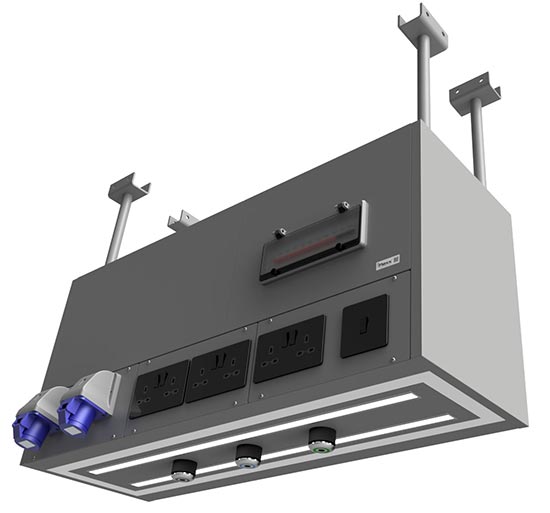 | CODE | DIM L x D x H |
| --- | --- |
| IF1000G | 1000 x 300 x 600 |
1 X RCD PROTECTION DEVICE (1st Module)
1 X LIGHT SWITCH (REQUIRES ONE OF THE 1G FACEPLATE OPTIONS
LED TASK LIGHTING x 2
3 X FACE PLATE OPTIONS PER SIDE
CHOOSE FROM ANY OF THE COMBINATIONS BELOW
 TO MAKE UP YOUR MODULE
| Face Plate | Description |
| --- | --- |
| | Blanking Plate |
| | 1 x 2G and 1 x 1G Face Plate |
| | 2 x 1G Face Plate |
| | 1 x 2G Face Plate |
| | 2 x 2G Faceplate |
| | 2 x 16 or 32 AMP COMMANDO SKT |
The iGANTRY system is a modular system, to create larger runs you just connect more modules in line to the desired length.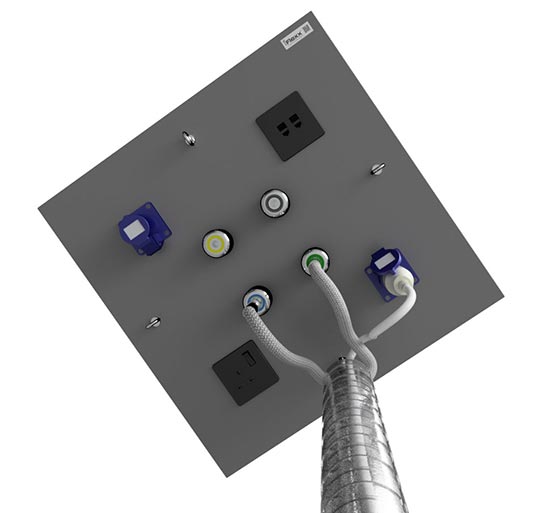 | CODE | DIM L x D x H |
| --- | --- |
| IF600T | 600 x 600 |
FITS IN A STANDARD 600 CEILING TILE GRID
OPTIONAL 2 x 1G KNOCKOUT MODULES (POWER / DATA)
OPTIONAL 2 x COMMANDO SOCKET (16 OR 32AMP)
OPTIONAL QUICK RELEASE GAS SOCKETS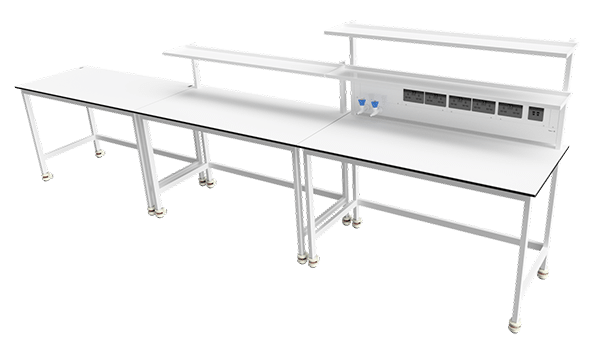 iflexx modular lab bench system
The iFlexx modular laboratory benching system is a versatile solution for lab workspaces. The system features a robust lab bench and worktop, which can be outfitted with feet, castors, or a combination of both for added mobility. Additional Modules can be added to the benches to create your custom modular lab benching solution.
Get In Touch Today To Find Out how the Iflexx MODULAR LAB system can integrate into your new lab
And start your journey into a new flexible way of working in your laboratory