INDUSTRIAL |  RESEARCH | TEACHING  |  MEDICAL
Laboratory Fume Cupboards and Extraction
lab solutions without compromise
Fume Cupboards and Extraction
Within a laboratory environment there are certain requirements to keep staff, personnel or pupils safe. Laboratory extraction, when thought of as part of a wider lab furniture package, is an essential step in ensuring your lab is able to prevent or limit exposure to hazardous substances like gases, vapours, aerosols and particulates.
The likes of fume hoods, fume cupboards and other extraction systems work together to provide any lab users with adequate protection. When fitting out a laboratory, it's important to consider the right laboratory extraction for the environment. Here at InterFocus we offer a range of laboratory extraction equipment as part of our lab furniture packages.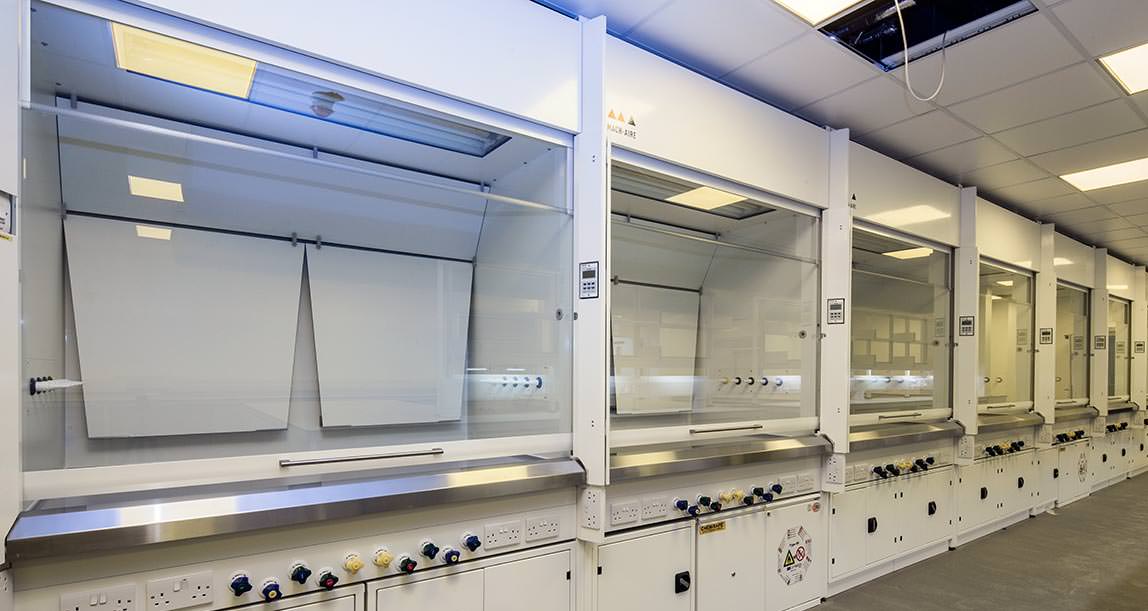 The benefits of Fume Extraction
Dust, fumes and other such substances can be hazardous to individuals and their health if they are inhaled. They can cause respiratory disease or aggravate existing conditions such as asthma, making the laboratory a potentially risky environment. However, you can mitigate this by installing the right laboratory extraction equipment, including fume hoods and cupboards.
All types of laboratories need fume extraction, as it can play a vital role in filtering fumes for a healthier and safer environment. What's more, it's also important to install an extraction system to ensure that you are complying with health and safety regulations.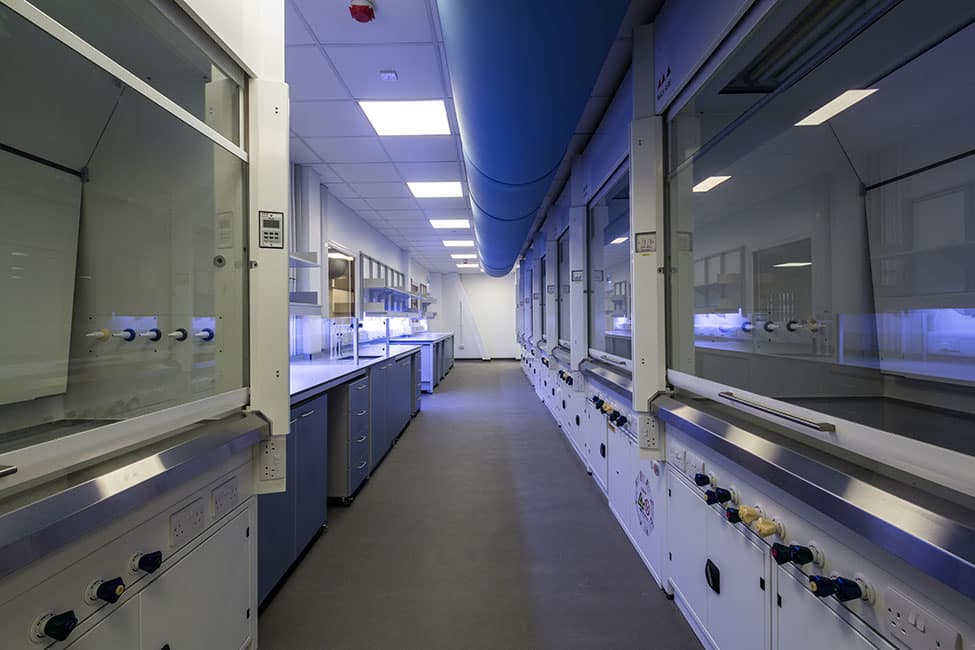 Fume Hoods and Fume Cupboards
At InterFocus we can supply and install all types of fume cupboards, fume hoods and other fume extraction solutions, as part of a larger lab furniture package. An effective system will make a huge difference to the safety of your lab. Fume cupboards and hoods are the top method of controlling any exposure to toxic, flammable or hazardous vapours and gases.
Fume cupboards are a typical of local exhaust ventilation system, consisting of a cabinet and hood that has a moveable front sash or window. It's important to maintain your fume cupboard properly, so that the fume hood can work effectively in drawing the fumes in and expelling them through a filter.
We offer both standard and bespoke fume cupboards, available in ducted or mobile re-circulation variants. Fume cupboards play an important role in capturing and removing airborne hazardous or toxic substances generated in the laboratory. However, it's important to remember that not all fume cupboards are the same – as noted by the HSE, many can be poorly designed, making them inefficient and difficult to use. All of our fume cupboards are well designed and in line with best practice, and comply fully with the relevant safety standards.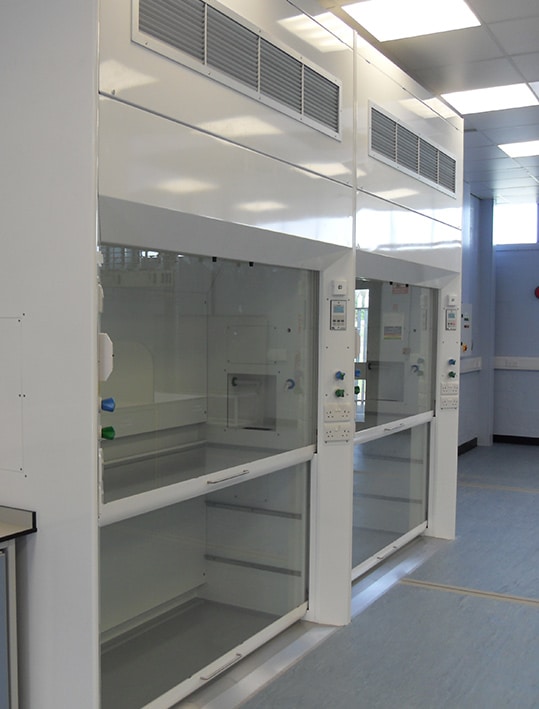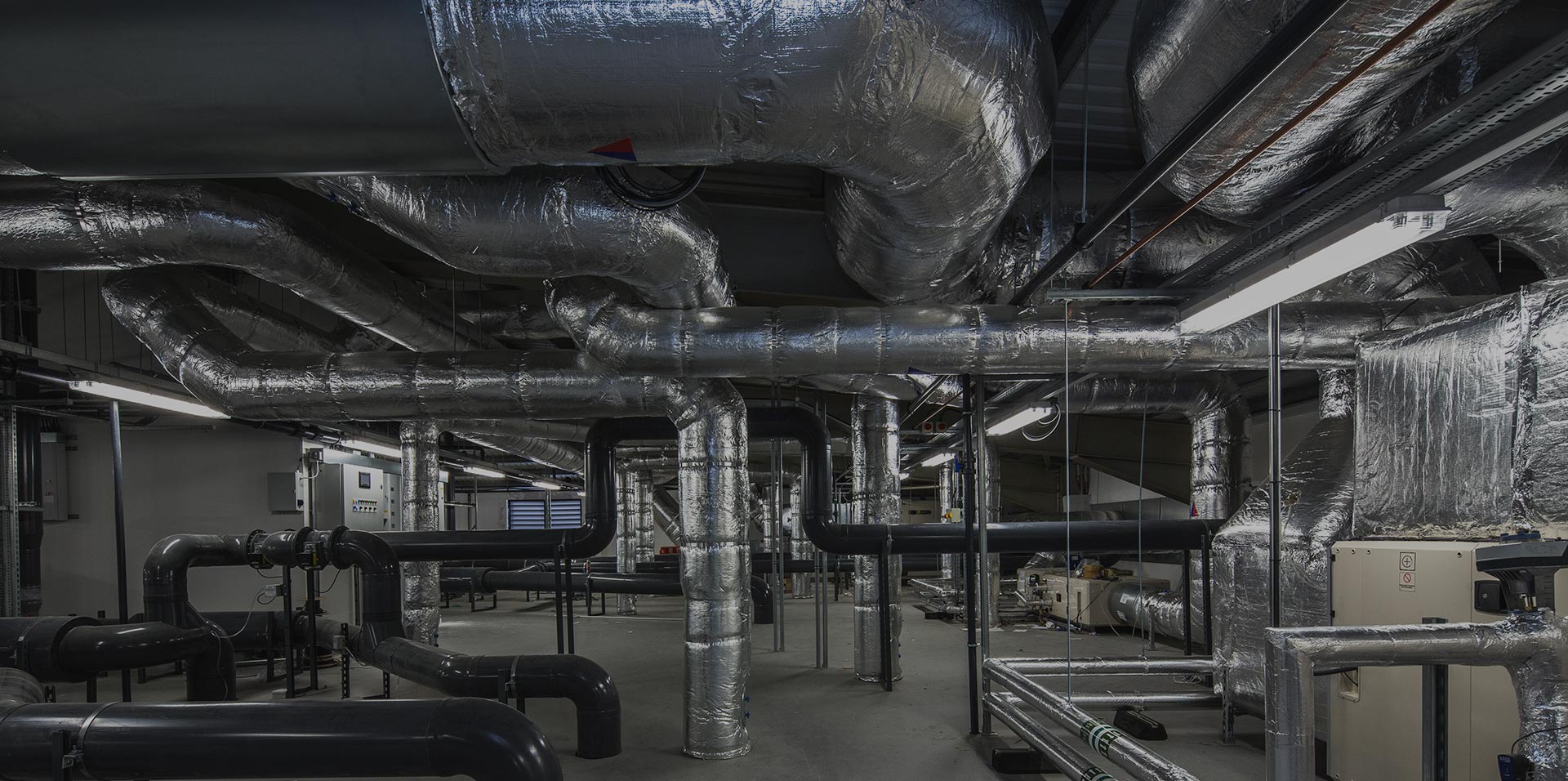 The benefits of Fume Extraction
As part of our wider lab furniture offering, we can supply a range of extraction systems to meet the individual needs of your laboratory, including fume hoods, integrated fume cupboards and extract arms. We can provide a bespoke design and installation service to provide efficient laboratory extraction.
Depending on your laboratory's requirements, we can help to specify the right fume extraction system. Our fume extraction solutions have been designed not only to provide compliance with the relevant regulations, but to help you provide a clean, safe work environment. Laboratory extraction can also help to reduce contamination of samples and preserve your work.
Not only that, but laboratory extraction systems from InterFocus can offer quality, performance, durability, functionality and value for money, so that you can continue to work in an efficient and safe environment. We can provide all types of fume extraction solutions, so don't hesitate to get in touch to discuss your needs.
InterFocus offers both standard and bespoke fume cupboards and extraction systems that are suitable for a wide range of environments.
We supply solutions to research and industrial laboratories, healthcare laboratories and school science laboratories, tailored to both your needs and your budget. Both our standard and bespoke range offers excellent performance with low noise levels and minimum running costs. In addition, all of our solutions comply with the highest safety standards for your peace of mind. Get in touch today to find out more.