Choosing the right worktop material for your lab worktops is essential for guaranteeing longevity and durability, alongside reducing the amount of required maintenance. Whether you're doing a full lab design refurbishment, starting from scratch or updating your lab furniture to the most suitable materials, this is one of the biggest considerations for this industry.
Stuck on what to go for during the design phase of your lab build? In this guide, we'll help you decide on the right one for you, based on your budget and the requirements of your lab.



What should be considered when choosing your lab worktop material?
Multiple factors will come into play during the decision-making stage. Some of the main ones include:
Cost: The budget for your design and build needs to be considered. Some worktops are more costly than others, although it could be worth spending more if your lab environment is more demanding.
Current and future applications: The countertops of your lab furniture need to suit current and potential future uses.
Type of environment: Whether you work with chemicals, or the worktops need to withstand a high-temperature environment, this factor is one of the most important when coming to a decision.
Maintenance: While this can include things like refinishing the surface every few years and how often the countertops might need to be replaced, you should also think about how easy it is to clean the surface. Many labs require continuous cleaning routines, and the surface needs to be able to withstand this.



What are the different worktop materials used for?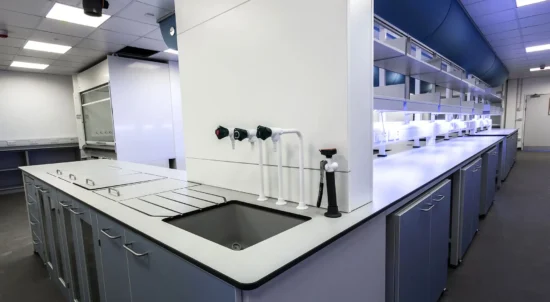 So, which materials work best in which types of labs? Since labs will often have different requirements based on their purpose, it's important to have the best worktop to match this. Whether you use corrosive chemicals or need high-durability worktops for a school lab, there's a solution that will fit your needs perfectly.
Below, we'll go through some of the most popular worktop material options so you can see for yourself.


Trespa
Trespa worktops are easily one of the most versatile, which is why they're the number one choice for many different laboratories. Whether you choose the Trespa TopLab Base or opt for the Plus ALIGN option, Trespa worktops are suited for many educational, laboratory and institutional applications.
This type of worktop is made using reinforced natural fibres and thermosetting resins bonded under high pressure to help extend their life span and durability
Advantages
Long lasting
Impact, moisture and chemical resistant
Quick and easy to clean
Durable
Scratch resistant
Disadvantages
Epoxy Resin
Epoxy resin work surfaces are a product of silica-filled, heat-cured solid epoxy resin, formulated to achieve optimum chemical resistance. While this option might be the priciest, it offers the highest level of durability for the most extreme lab conditions.
Therefore, epoxy resin countertops are suitable for the widest range of purposes of all the options available, although their high durability means they're best for heavy-duty use. From biological science labs to labs in an educational setting, these can be used almost anywhere.
Advantages
Suited for heavy-duty use
High chemical, bacterial, moisture, fungal, corrosion, scratch and temperature resistance
Flame retardant
Easy, low-cost maintenance
Large range of finish and colour options
Disadvantages
Iroko Wood
Iroko and similar hardwoods are often the traditional choices for school laboratory classrooms and chemistry and physics labs. However, they're not well-suited for use in sterile areas because they're difficult to clean and lack chemical resistance properties.
Advantages
Easy and simple to refurbish
Heat, acid and solvent resistant
Sturdy surface
Cost-effective
Available in a range of colours
Disadvantages
Porous
Easily dented
Not the most suitable option for use with chemicals
Stainless Steel
Stainless steel is often chosen for sinks and specialist areas such as sterile labs. Whether it's a hospital or a medical research lab, this option benefits from a non-porous surface that doesn't allow anything to penetrate the material. Bacteria, liquids and many chemicals won't damage the surface, and it's also easy to clean.
This worktop type is often made of low carbon steel, which can usually be created by combining chromium and nickel.
Advantages
Suited for heavy-duty use
High chemical, bacterial, moisture, fungal, corrosion and temperature resistance
Easy to clean
Disadvantages
Low scratch and dent resistance
Higher cost
Made to order, longer lead times
Our worktops
At InterFocus, we have a range of worktops made using a variety of materials so you can choose the one that suits you best. Discover our options below.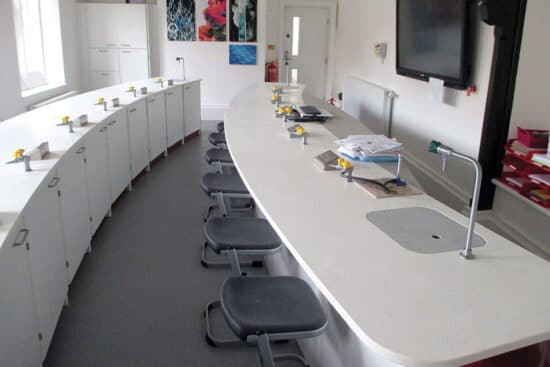 Trespa Toplab Base
TopLab®BASE is a robust and long-lasting panel that can be used as a worktop where scratch and wear resistance are the most important properties required.
Trespa Toplab PLUS
TopLab®PLUS is the perfect surface choice for quality worktops in labs requiring antibacterial properties and high resistance to a wide variety of aggressive chemicals.
Trespa Toplab PLUS ALIGN
Trespa TopLab PLUS Align is an environmentally sustainable work surface available from Trespa, containing up to 85% bio-based carbon content. The FSC certification makes it an ideal choice for use in BREEAM projects.
Velstone worktops
Velstone solid surface offers attributes which aren't available in conventional worktop materials, making it a desirable choice for laboratories prioritising aesthetics, functionality and sustainability.
Lab20 Solid Surface
The LAB20 work surface has been developed for use in the high demands of the education and healthcare sectors. LAB20® is a solid, durable surface and being homogeneous with a high chemical resistance gives all the benefits of solid surfacing at a reduced cost.
We also offer a wide range of bespoke, cut-to-measure worktop solutions. Head to our worktops and work surfaces page to learn more about our bespoke offers.
At InterFocus, we're dedicated to helping you find the right worktops for your lab. To find out more about us, visit our homepage or contact our team directly at 01223 894833.