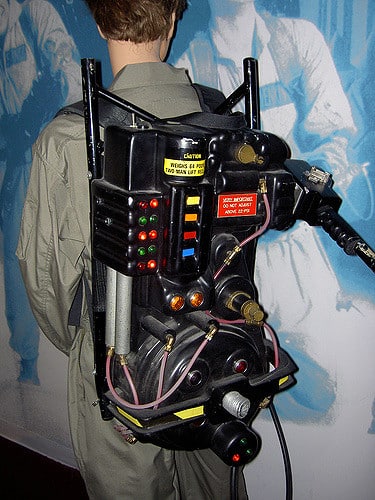 Classic 80s family comedy/sci-fi smash, Ghostbusters, returns this year after more than quarter of a century in hiatus, with a fresh team of ghoul-hunting heroes trying to keep the world safe from bumbling ghosts and spirits. And unless you've been living under a rock, you'll have surely heard the (frankly ridiculous) complaints about the all-female cast or the trailer which became the most disliked video in YouTube history.
But put all this aside, because it gives us the chance to re-live the excitement of hunting down ghosts and zapping them into small ghost prisons. I mean, who didn't want their own proton pack throughout childhood (and equally so in adult life)?
So, in celebration of the rebooted Ghostbusters film which will hit the big screen this week, we're sharing these tips to help you make your own proton packs. Whether you're a relative DIY novice, or a real Egon Spengler – we've compiled a few different methods to help you start busting ghosts in no time.
But just be careful, never cross the streams!
The Beginner's Proton Pack
If you're not convinced ghostbusting is necessarily the correct career path to follow, and don't want to spend a lot of time or money building a proton pack – our first guide is designed for the beginners. Whilst ghosts may not be overly concerned when they see this pack, it'll be a great addition to a Ghostbuster Halloween costume or a little cosplay in your own home.
Most of the items needed to complete the pack can be found during a quick rummage around your dad's garage – great for Ghostbusters on a budget.
All you need to make the beginner's proton pack is:
Two large cardboard sheets
One round plastic tub
Black spray paint
Red reflective tape
Black masking tape
Blue and green glow sticks
Cable housing
Hot glue gun with two bags of glue sticks
Stanley knife
Pencil and rubber
Ruler
Here is the full guide from Instructables user, sling.
The Lego Proton Pack
Whilst we're not suggesting that Lego is well-suited to storing spirits-in-limbo, or that a suit crafted from the Danish toy bricks would be in any way comfortable to wear during an evening busting in New York (or during a fancy dress party at the local cricket club) – a Lego proton pack makes a pretty cool addition to the home (if the other half agrees).
And the other great tick in the plus column for building the proton pack out of Lego is its general availability. There's definitely a few boxes of miscellaneous Lego knocking about in your loft at this moment – making it, perhaps, the simplest way to make your own proton pack.
This video from Brick Replay, showcases the simplicity of making a great proton pack to scale out of Lego bricks. Scale up or down as appropriate.

The Expert's Proton Pack
Or if you've skipped through the first two design ideas, disgusted they don't reflect how seriously you take ghostbusting, we've found a guide to create a more comprehensive version. Instructables member ZombieDUG created a couple of authentic proton packs a few years ago for himself and his girlfriend. Costing roughly $200 (£150) a piece, they are for serious Ghostbusters only.
After stocking up on flight suits, paratrooper belts and boots – the would-be Ghostbuster then got to work on his proton packs.
If you want to build your own expert proton pack, you'll need the following items:
Large Masonite board
Insulation foam
Sand paper
PVC
Plant pot
Plastic document folders
Metal window sliding
Glue
Matte black paint
Gesso
Black ribbed tubing
Battery pack
LED kit
Silicone
Resin
A trowel handle
Zip ties
Pipe foam
9v batteries
All manner of tools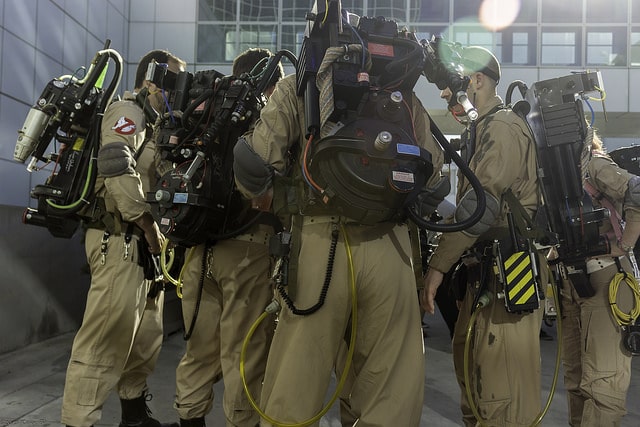 Here is the full guide from ZombieDUG on Instructables.
So have you picked which of the proton packs are for you? If you've built your own ghost catching device, we'd love to see it – post pictures and videos of it over on our Facebook page.
InterFocus are a team of leading suppliers and fitters of commercial laboratories and lab equipment, helping scientific minds make their ambitions reality. For more information about how InterFocus can improve your research suite, visit our homepage or call our dedicated team on 01223 894833.
Image credits: Flickr Creative Commons: Brickset, AlamL212, Karem Borter