[vc_row equal_height="yes" content_placement="middle"][vc_column][vc_column_text]Working alone in a laboratory setting isn't ideal. But sometimes, the demands of a busy laboratory will necessitate that yourself or one of your employees work alone.
Whether you're a facility manager or a laboratory employee, our safety guide will show you what steps you can take to improve workplace safety.
Quick Navigation
Risk Assessment
First of all, it's vital that a thorough risk assessment is carried out to evaluate all the possible hazards and scenarios which may pose a threat to a lone worker.
When working without another qualified person on hand, an isolated worker must be adequately prepared to deal with unexpected situations alone, in the first instance.
Ensure that preventative measures are in place relevant to your risk assessment and that all safety equipment is available and can be easily accessed by one person without assistance. Practical safety equipment could make the difference between a negligible incident and a serious injury. Our Emergency Eyewash Stations for example, are designed with ease of use in mind allowing for single-person operation in an emergency.
Planning Ahead
When working alone is necessary, schedule high-risk tasks or work involving hazardous materials outside this time. Instead, arrange to carry out these procedures during peak working times alongside another qualified person or supervisor. Always notify an authorised person of your planned work schedule.
Regular Checks
Laboratory personnel are at an increased risk when working alone, as accidents have the potential to go undetected. Ensure incidents are dealt with promptly by implementing a supervisory system using one or more of the following methods.
Visual checks are useful if English is not the lone worker's first language and communication via telephone or e-mail is not possible.
Checks can be carried out in person or via your site's CCTV monitoring system. Periodic checks can be made by a supervisor or a 'buddy'.
Consider introducing a 'buddy-system' when one or more persons are working in isolation within the same facility. Workers carry out visual checks by visiting neighbouring rooms periodically. Such systems can raise health and safety awareness overall and improve emergency response times in the event of an accident.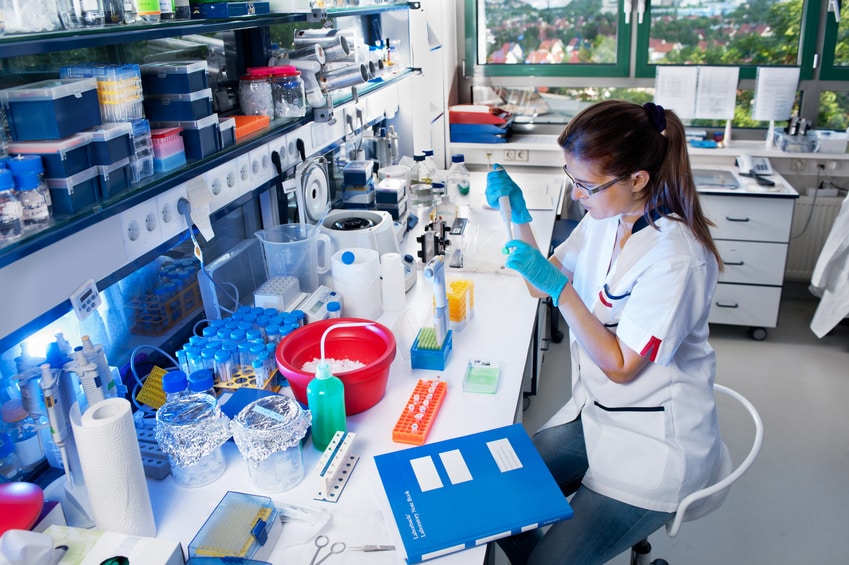 If no other workers are present on site, inform security personnel of your work schedule and arrange with them to carry out regular checks.
Prior to working alone, be sure to establish an agreed communication schedule between yourself and a supervisor or another authorised member of personnel. Contact should be made at prearranged intervals, by radio, phone or e-mail.
Where supervision is limited, consider installing an automatic warning device that will alert external services should a lone worker fail to respond at any time.
Access Considerations
Lone workers should not be expected to access their workplace by means of dark corridors or unsafe routes.
When working outside normal hours is required, extra checks may be necessary to ensure that entry and exit routes to the laboratory provide safe and hassle-free access. Most importantly, workers must be able to exit safely in the event of an emergency.
Each of our laboratory solutions are designed to your exacting requirements whilst creating a safe and ergonomic workspace. If you're looking for assistance with laboratory planning and design or you'd like to improve access at your current premises, contact our design team who will be happy to help.

Travelling To and From Work
In addition to workplace access, the safety of workers travelling to and from the laboratory outside normal working hours should also be considered.
Lone workers may have to commute late at night or during off-peak times when they might feel more vulnerable than usual. A personal alarm will provide added protection and reassurance to vulnerable employees and a 'buddy system' can be used to record attendance at work.
When returning home after working alone, always communicate with your supervisor or ensure there is a system in place to check that employees return home safely after work if you are an employer.
Emergency Response Training
A panic response can exacerbate an emergency situation very quickly and is caused, in part, by inadequate training.
Lone workers do not have direct access to more experienced staff members. For this reason, these individuals often require further and more in-depth training than colleagues working at the same level.
Equip staff with the correct training and skills required to respond appropriately to unexpected situations. This will limit the risk to themselves and to the workplace environment. Before being approved for lone working, colleagues must be well informed about the risks of working alone and be able to take necessary precautions.

When You Should Not Work Alone
Whilst lone working is rarely encouraged, there are some scenarios in which it should be strictly prohibited. Lone working should not be approved when:
Working with hazardous chemicals or substances with which, in the event of an accident, the user would require immediate assistance from another person. For example, if a lone worker splashes a chemical in their eye and be unable to help themselves.
Working in a confined space. Posing too high a risk to lone workers, it is recommended that at least one other qualified person is present to supervise and, in some cases, a further person responsible for the rescue procedure.
Working around exposed live electricity conductors.
Looking to upgrade your laboratory set up? Contact our team who can provide expert advice on all aspects of your laboratory design and refurbishment. Working across many sectors, our service is tailored to your specific requirements and budget.
To browse our full range of laboratory products and services, visit our homepage.