Your choice of laboratory furniture can affect productivity, efficiency and functionality. Therefore, it's important to weigh up some of the main considerations before deciding on which furniture, benching and worktops to install. All labs will have different requirements and giving it some thought beforehand will help you get the most from whatever you choose.
Here, we'll break it down for you and go through all the main things to think about before coming to a decision, whether you're working on a huge lab build project or updating a few areas of your laboratory.
What factors should be considered during your lab build and design?
1. Design
Aesthetics can vary in importance depending on the type of lab you have. However, most labs will value the practicality of their furniture choices over the design because of the type of work being done. With that being said, some labs will still care about the overall appearance to some degree.
If your lab doesn't need to be hard-wearing and durable, you'll have much more leeway to create the finish you might be envisaging. But there are still great options if durability and style are what you're after – just be mindful that these can come at a higher price.
Another important consideration is that design and functionality can sometimes go hand-in-hand. Since the layout of your furniture should be as simple and easy as possible for everyone to work in, this becomes a design issue.
2. Budget
The budget set for your furniture, benches and worktops should be drawn up long before you begin to decide on any specifics and should always reflect the needs of the lab. While it can be tempting to save some of the budget by cutting costs, it's also important to ensure that the requirements of your lab are still being met.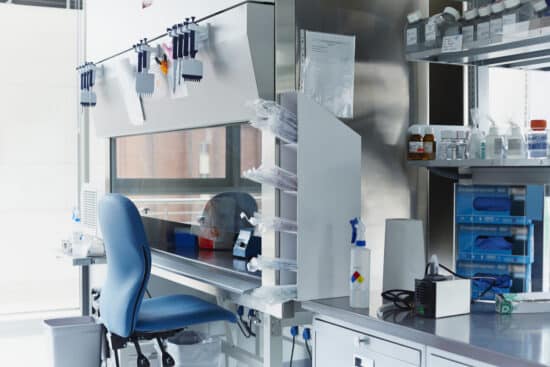 Certain worktop materials are cheaper for a reason, whether that's because they're less durable or are easier to transport. You'll need to look at all the properties each type of worktop offers, from heat and chemical resistance to appearance.
This goes for your other furniture options, too. From your benching to your furniture systems, the budget should align with your needs and this shouldn't necessarily be an opportunity to save some money during your project.
It's also worth looking at the bigger picture by considering the lifetime costs of your chosen materials. If you choose the right materials for your lab's requirements, the maintenance costs should be minimal. But if you're constantly needing to repair or replace worktops, furniture and benches, you won't be getting good value for money. Often it pays to spend a bit more, so factor this into your budget.
3. Location
Thinking about which rooms you're furnishing is an important consideration because this can impact what you'll need. From educational settings to medical labs, different locations will have very different requirements. Consider the amount of storage you might need, whether mobile or stationary furniture would work best and the type of materials that will withstand application in this location.
It's important to meet certain requirements that you would not need to on a non-BREEAM project.
4. Exposure
While this mostly relates to your choice of worktops, it can also be helpful to think about what your other furniture will be exposed to. For example, if your lab works with corrosive chemicals, it's important to ensure your workstations will be able to withstand anything used within your lab without being damaged. Popular options in these cases tend to be Trespa worktops and other Trespa furniture, because these are strong and sturdy in many applications.
Meanwhile, if you're working in a cold room, you'll need to think about how well your choice of materials will hold up in that environment. Stainless steel usually works best in colder environments, so this would be the top recommended choice for any workstations, benches and furniture if possible.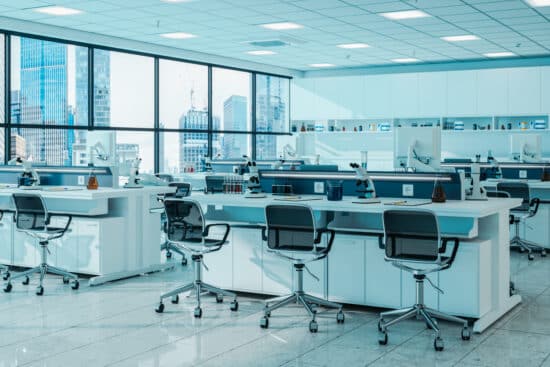 5. Space
Space constraints can have a huge impact on your choices. Whether you have lots of space or very little, you'll need to think about what furniture is needed in that area and how you can make it work with the options available to you. Furniture can be combined into larger units containing everything you might need, or split up into individual elements – it's entirely your choice.
Regardless of how much space you have to work with, bespoke solutions can help maximise every inch of floor, wall and even ceiling space. At InterFocus, we can work alongside your team to create the perfect lab design and implement the furniture that will suit you best.
However, if your budget is tighter or you just want to choose from the range available, there are plenty of ways we can accommodate any space. From mobile furniture to adjustable shelving, the only thing you need to understand is what you want to do in each space.
6. Workflow
Within your lab, you'll want to maximise the efficiency of workflows with your choices. Whether you need workspaces suitable for group work or the space needs to be functional for multiple uses, this consideration will mostly impact the type of furniture you choose.
For more flexible workflows, mobile lab benches and trolleys can be handy because they can be moved around easily. Meanwhile, stationary furniture and benching systems often work best when you need everything to have its own place and allow for optimal organisation.
At InterFocus, we offer a wide range of laboratory furniture, alongside our design and build services. To find out more, visit our homepage or contact our team directly at 01223 894833.