Finding the right laboratory furniture that ticks all the boxes for your team's needs can be a lengthy process. After all, there are so many great options available. Whether aesthetics is your top priority or organisation is the key factor that can sway your decision, it can be good to know all the available choices before settling on anything.
To help you narrow down your choices, our guide will take you through the different fitted and flexible furniture options available, where they're best suited for use and why.
Fitted Laboratory Furniture
Most lab furniture can be fixed into place in a pre-agreed space. From cabinets to shelving to workbenches, these provide a permanent non-moving structure within the laboratory. They can usually be fitted in a few different ways depending on the type of furniture you're dealing with. For example, shelving can be fitted to the walls, while benching can be fixed from floor to ceiling.
Which types of environments would benefit most from fixed furniture solutions?
Fitted furniture can benefit a variety of lab environments, but often for different reasons. For example, fixed shelving or cabinets can help store research efficiently and maintain organisation since it'll have a fixed location. Therefore, research-based science labs can benefit from this furniture type.
Fixed stations are also popular for safety equipment since it's useful to keep these in a permanent area so they can be reached quickly. IPS wash stations must be easy to locate in labs using things like chemicals or solvents, so choosing a fixed structure for these is usually the best option. If your lab is chemistry or biology-based, it's worth considering fixed furniture for any safety equipment you might need.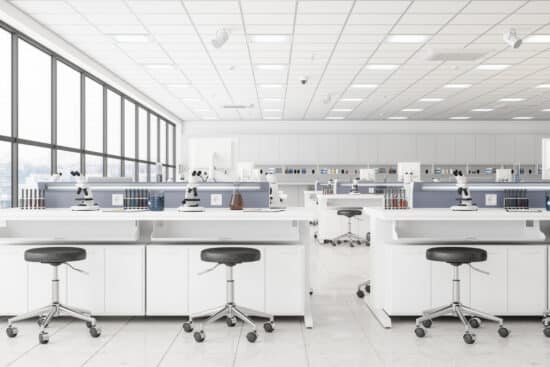 Educational environments also tend to choose fixed furniture for safety reasons since it means that students are less likely to trip or fall on moveable furniture. However, one drawback in this environment is that fixed benching often doesn't allow for easy group working and isn't the most accessible for working around. In these environments, flexibility might be more useful.
One environment that benefits from more fixed furniture is labs that have a lot of electrical equipment or machinery, such as computers or generators. Since these appliances often need to be plugged into an electrical source, it's easiest to have a fixed location for them.
Flexible Laboratory Furniture
Although fixed furniture has been the traditional approach for many years, flexibility is starting to become more and more popular for all types of labs. This is simply because it offers more adaptability, from being able to change the layout of your furniture to greater accessibility, there are a lot of benefits to gain from mobile furniture solutions.
Why would you need flexible furniture?
Flexible furniture can be a great option for a huge variety of applications. Many labs will choose this type of furniture to furnish their spaces partially or fully because it offers a flexible laboratory design alongside saving on space. For example, if the space around your main workbenches looks tight but you require extra floor-level storage, cabinets on wheels offer the perfect solution for this problem. Cabinets that can be moved around under fixed benches also mean that you can access everything as and when it's needed with minimal disturbance to the workspace.
For multi-purpose rooms, flexible furniture offers the option of adding or removing workbenches and workstations as and when they're needed. Mobile lab benches or trolleys can be especially useful for this purpose. Education settings like schools and higher education facilities might need to use classrooms for multiple reasons, and furniture on wheels simplifies this massively.
Medical environments will benefit from flexible furniture since they can wheel it around their facility and use it in multiple locations with ease. When it comes to transporting medical equipment quickly, this can be vital.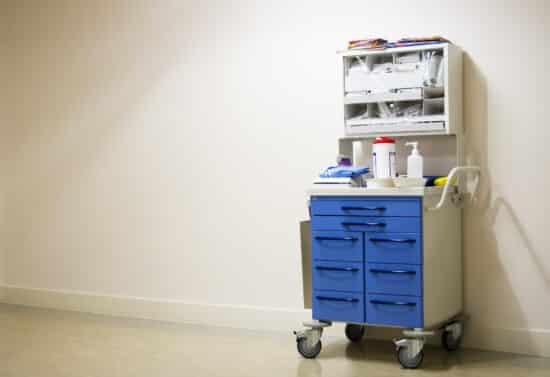 For a more in-depth look into the advantages of flexible lab benching, check out our blog post.
Can both fitted and flexible lab furniture be installed?
Depending on your adaptable needs, it's entirely possible to install fitted and flexible lab furniture. In many cases, it can be much more useful to have a combination of both since this will optimise the space the most. Cabinetry can be kept on wheels while workbenches remain stationary, or mobile workstations can be used in combination with fixed versions to create different furniture layouts.
Labs can often require versatility from the furniture used, and using both offers the perfect solution to this requirement. Some popular examples would include using fixed tables with mobile drawers or cabinets that fit underneath, or mobile workbenches allowing you to change the layout according to the changing needs of the lab.
Our furniture solutions
At InterFocus, we've designed our ISystem furniture solutions with all types of laboratories in mind. Whether you're looking for fixed, flexible or a bit of both, we can offer a bespoke solution that works for your space, budget and needs.
We have decades of experience working with educational, pharmaceutical, healthcare and industrial laboratories to create the perfect environment for them using our expertise and knowledge in lab furniture.
From our space-saving frames including benching, shelving and cabinets to individual benching and trolleys, we have a wide range of options to help you design your ideal lab layout. We also have a range of worktop finishes available, including a full selection of Trespa options. You won't have to compromise on any of your requirements working with us.
We strive to help our customers find the perfect lab furniture for their requirements and budget. To find out more about us, visit our homepage or contact our friendly design team directly at 01223 894833.