There's a good chance you'll have heard the acronym COSHH used around the lab before, usually in relation to risk assessments and employee safety. Whatever your role within the lab is, it is your responsibility to understand the implications of COSHH and how a failure to stay on top of these regulations could affect you and your colleagues.
To keep you and those around you safe, we'll explain COSHH in greater detail and provide some ways you can ensure you're adhering to its regulations at all times.
Navigation
What is COSHH?
COSHH stands for Control of Substances Hazardous to Health and is by no means limited to work in a lab; it features in hospitals, schools and really just about any area where workers and members of the public convene.
COSHH was updated in 2002 and acts as a legal framework designed to help employers protect their staff and members of the wider public from contact with any harmful substances. As well as limiting exposure, the regulations aim to ensure sufficient protection and emergency response equipment is available where necessary.
Developed by the Health and Safety Executive, the regulations cover substances used in everything from small offices to large pharmaceutical plants. Whether it's harmful acids used in labs right the way down to everyday cleaning products, COSHH covers it. And although the process of outlining the risks and precautions for each substance can seem overwhelming, thankfully, HSE has provided industry-specific guidelines to help.
How has Brexit affected COSHH?
After departing from the EU, questions have been raised in the health and safety world as to both best practice and compliance within the UK. Now that the UK has left the EU, how has it affected COSHH regulations going forward?
Despite the link between COSHH and EU legislation, COSHH regulations aren't likely to see a significant change in 2021 and beyond. With that said, since some parts of COSHH are dependent on EU legislation, there could well be some minor changes further down the line.
The only exception to the rule is in Northern Ireland, which is governed by its own COSHH legislation and under the Northern Ireland Protocol will still answer to EU chemical legislation.
The changes in UK law that are now in place does mean there are a few changes businesses will need to make to be compliant with COSHH. Keep in mind the following:
Changes to Classification, Labelling and Packaging (CLP)
British-based companies that supply chemicals in the GB market will now answer to the HSE
Companies that deal with chemicals will need to notify the new GB CLP agency of the classification and labelling of substances
Companies operating in Great Britain will need to classify and label substances in accordance with GB mandatory classification and labelling (GB MCL)
Users and distributors downstream from the EU and EEA are now classified as importers
For chemical exporters, the EU and EEA importer is required to fulfil the classification, labelling and packaging for goods exported from Great Britain
Prior Informed Consent (PIC)
Companies that import or export from Great Britain will need to comply with the new GB PIC system.
The current EU PIC Regulation will continue to apply in Northern Ireland
Exporters and importers must now include details of the quantities of chemicals exported or imported from the EU. Information on other countries will also need to be submitted to the HSE in the first quarter of future years
Businesses working with biocides
A new regulatory framework has been put in place in Great Britain for biocidal products. Businesses must now consider the following:
Applying for approval for a biocidal product or active substance authorised in the EU, EEA and Switzerland will continue submission to the ECHA (European Chemicals Agency)
Applying for approval for a biocidal product or active substance in Great Britain will need to submit for approval from the HSE Executive
Businesses working with pesticides and plant protection products
Since the end of the transition period on 1 January 2021, a new independent pesticides regulatory regime has been set up in Great Britain.
Businesses will now need to consider the following:
New applications for active substance approvals, PPP (plant protection products) and MRLs (maximum residue levels) will continue to be submitted to the HSE Executive
For accessing BG, NI and EU markets, authorisation or amendments may be required under both the GB and EU pesticides regimes. Applicants can be based in any country
The EU PPP legislation continues to apply in Northern Ireland as under the previous transition period

The importance of risk assessments

The first and most reassuring thing to know is that abiding by COSHH regulations can be a very straightforward process. All it takes is a little time and commitment.
Arguably the most important step of the process is to identify all potential hazards by conducting a workplace risk assessment. Risk assessments will differ from facility to facility, but the lab manager or other relevant specialist should identify all hazards within the lab and determine the correct control methods to prevent them from causing harm to health.
Once this is in place, then it is the employer or lab manager's role to ensure that staff are aware of relevant measures and all safety equipment is available and up-to-date. Similarly, full training must be carried out with the staff, and emergency procedures should be put in place to protect them against harm.
Failure to stay on top of any of these elements could compromise the welfare of employees or lab workers, and potentially lead to large fines and potential legal repercussions. Fines of up to tens of thousands of pounds can be handed out to employers who fail to adequately protect their staff.
Which Substances are 'Hazardous to Health'?
The list of substances hazardous to health is vast, and features everything from chemicals that have clear and obvious risks to seemingly innocent products such as paint or detergent spray. The list is too extensive for us to run through completely but consider any items that exist within your lab from the following list:
Chemicals
Fumes
Dust
Vapours
Mists
Gases
Biological agents
Nanotechnology
A comprehensive COSHH assessment is required for all labs that use potentially hazardous materials, but there are a number of substances that are not covered by COSHH. This isn't because they're without risks of their own, but because they have their own specific regulations that must be adhered to.
Other substances and their regulations:
Control of Asbestos Regulations 2012
Control of Lead at Work Regulations 2002
Radioactive Substances Act 1993
Food and Environment Protection Act 1985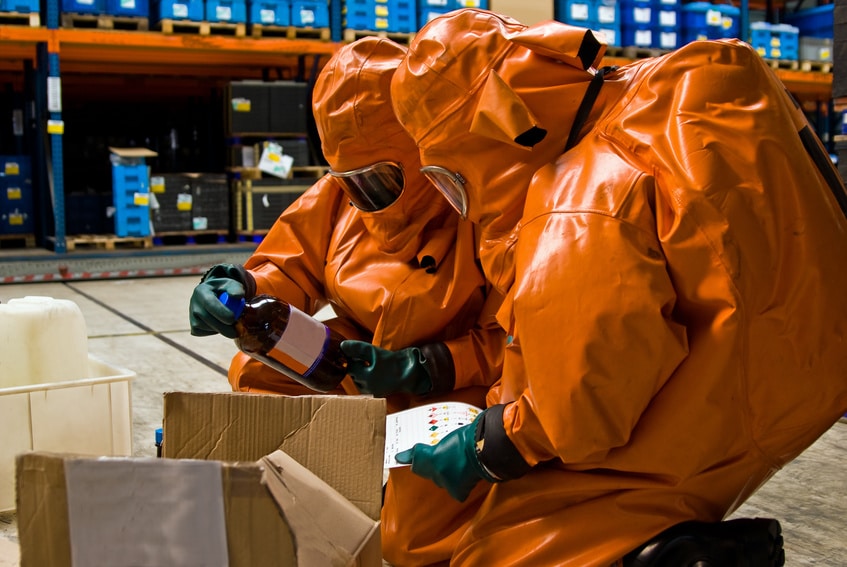 Adhering to COSHH regulations

Thankfully, COSHH's regulations are there to help us as opposed to catch us out. The Health and Safety Executive have produced a useful guide to COSHH assessments which can be downloaded for free here or alternatively purchased from the HSE website.
To stay on top of all COSHH regulations, there are a few basic steps that you can implement immediately:
Take a look at the specific HSE page for your industry
Walk around your workplace and make a note of all substances used in your lab that could cause harm
Identify personnel who could be at risk of exposure to substances
Provide staff with training related to the substances they regularly use
Consider whether it's possible to replace hazardous substances with less hazardous alternatives. This may not be possible for substances used within the lab but cleaning products, for example, could be replaced with less toxic alternatives. When making a replacement, consider the following:
Determine whether the original substance or process represents a hazard
Identify the potential alternative
Consider any potential repercussions of using the alternative
Compare all options
Decide upon the safest option
Introduce the substituted option
Assess and measure its efficacy and safety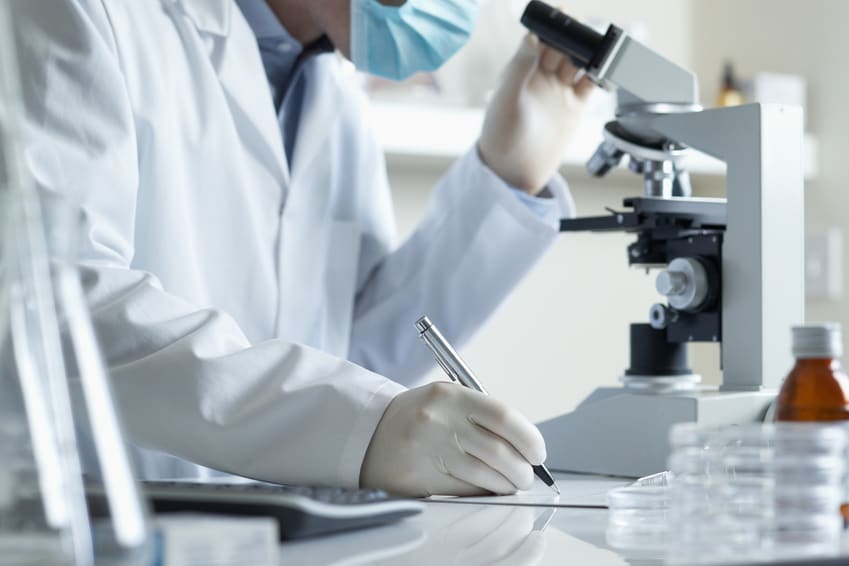 What is personal protective equipment (PPE) do I need to wear?

One important way to stay safe within a lab is by utilising PPE (personal protective equipment). If there are harmful substances and risks within the work environment, then PPE can prove invaluable. Consider which risks are apparent and how certain equipment could mitigate them.
For example, exposure to substances can happen in several ways. Respirators can protect against any substances that could be inhaled while protective clothing will come in useful for any substances that could cause harm to the skin. Other examples of PPE include:
Eye protection
Protective Gloves
Protective Footwear
Consider whether PPE will provide adequate protection while still allowing technicians to carry out their work to the best of their ability. It's also worth noting that some chemicals may be harmful, but only if they exceed a certain level so aim to be aware of workplace exposure limits.
Staff training
You can take all of the precautions possible, but if your staff are not adequately trained on COSHH procedures and regulations it could all be in vain. Thankfully, there are numerous professionals who can provide adequate safety training for your staff. Training and monitoring should be a necessity within your lab, after all, a fully-trained team and a safety-oriented workplace can help your lab to stay happy, healthy and functional.
For information on how InterFocus can help to design and build a safe lab for your team, visit our homepage or contact a member of the team on 01223 894833.